Charles White, the 1979 Heisman Trophy winner at Southern California, died on Wednesday. He was 64.
USC announced the death of White, the Trojans' all-time leading rusher with 6,245 yards. According to the school, the nine-year NFL veteran died of cancer in Newport Beach, California.
"He was the toughest player I've ever taught," said John Robinson, White's former USC and Los Angeles Rams head coach. "In that way, he was really exceptional. He was a fantastic player who adored the game. Those are the things I recall most vividly. He was a rough person who was also an exceptional athlete. But the tenacity… amazing!"
White, a two-time All-American and native of Los Angeles, won a national championship in 1978 before winning the Heisman Trophy the following season, when he captained the Trojans and led the country in running yards. In each of his final three seasons, White led the Trojans in running. After his senior year, he also received the Walter Camp, Maxwell, and Pop Warner Awards.
Charles Whites At Rose Bowl's Awards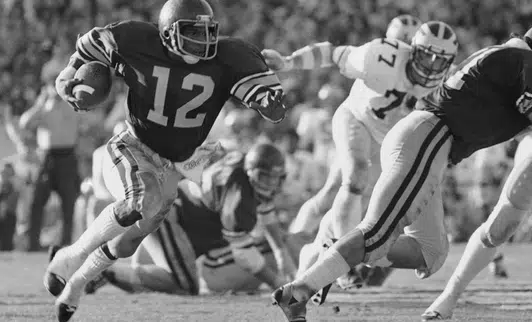 ---
Following the 1978 and 1979 seasons, he was awarded the Rose Bowl's most valuable player in both games. White was the third of USC's record eight Heisman Trophy winners, and he is still revered at the school dubbed Tailback U.
"Charles White was one of the best Trojans of all time," stated USC athletic director Mike Bohn. "A Rose Bowl classic, a two-time unanimous All-American, and an NCAA record holder, he made the Cardinal and Gold proud."
Cleveland selected White 27th overall in the 1980 NFL Draft, and he played five years with the Browns, missing the whole 1983 season due to injury. He joined the Rams in 1985 and played four more seasons under Robinson, totaling 3,075 yards running.
Following his retirement from the NFL, he coached USC's running backs from 1993 to 1997, while once again working under Robinson, who had returned to the Trojans. He also worked in the Trojans' athletic department as an administrator.
Judianne White-Basch, their five children, and a granddaughter survive White. The specifics of the memorial ceremony are still being worked out.