Stephen Smith, 19, was found dead on a remote two-lane road in South Carolina in 2015. His family has never recognized a medical examiner's determination that Smith died as a result of a hit-and-run. They believe foul play was involved, and state agents concur.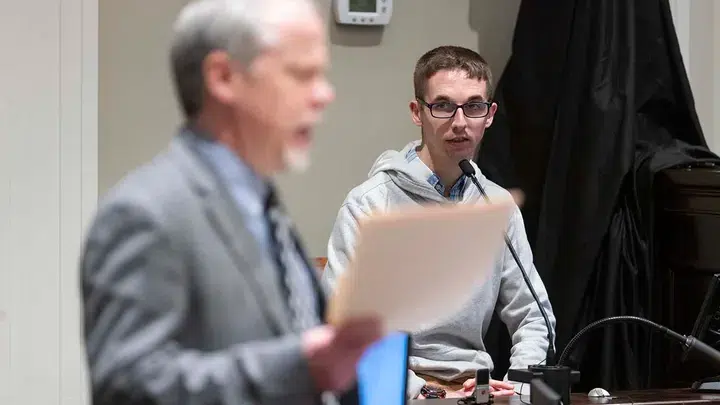 "The Stephen Smith case is being investigated as a homicide," Renée Wunderlich, public information director for the South Carolina Law Enforcement Division, told NPR on Wednesday.
RELATED Stephen Smith's Body found near Murdaugh property is to be exhumed
South Carolina Law Enforcement Division Chief Mark Keel told The State newspaper, "We do believe it was a murder." "We believe it was not a hit-and-run."
The location of Smith's death in Hampton County, not far from Moselle, the hunting estate where Maggie and Paul Murdaugh were shot to death in a case that became a worldwide sensation, has heightened interest in his case. SLED agents began investigating Smith's death in June 2021, the same month the twins died.
Smith's body is being exhumed by his family.
Sandy Smith, Smith's mother, is taking fresh steps to discover more about her son's death in July 2015. This involves arranging for a private autopsy and exhumation. She has raised around $90,000 to support her efforts.
RELATED:Mother raises $41K to exhume, autopsy remains of son found dead near Murdaugh estate in 2015
Sandy Smith told local news station Bluffton Today months after her son died, "Stephen was in the process of discovering himself and his sexuality." "He was gay; one rumor is that he had a man stalking him; the authorities questioned me about that, but I've heard other stories that make me believe him more."
Smith went on to explain that her son would have been suspicious of approaching automobiles on a dark road and that she suspected some of Stephen's old classmates were involved in his murder.
"One of the alleged perpetrators, Stephen, told his twin sister that he had a fling' with the boy," Smith added. "He also told me that he and the boy had planned a deep sea fishing trip for July, and Stephen died on July 8th."
Early reports said that there were no traces of a hit-and-run.
Smith was on his way home from night lessons at a technical college in Orangeburg, where he was learning to be a nurse when he died.
A 911 caller reported Smith's corpse in the early morning hours of July 8 in the middle of Sandy Run Road. His automobile was subsequently discovered not far from that location, with the gasoline cap removed, implying he had run out of gas.
Smith had a head injury but no other visible ailments. According to police papers shared online by the FITSNews site, initial reports suggested that Smith's head trauma was a gunshot wound.
Both Smith's family and authorities on the site have noted a lack of obvious indicators of a hit-and-run at the location where he was discovered, notably the absence of automobile debris.
RELATED: Everything You Need To Know About The Alex Murdaugh Murders Story
Despite being loosely laced, Smith's shoes remained on his feet, according to police. They also saw no skid marks near the spot where Smith's corpse was discovered in the middle of the road.
So, why was homicide ruled out at first?
Dr. Erin Presnell, a medical examiner, found in her preliminary autopsy report that Smith died as a result of being struck by a car — perhaps by a side mirror.
"Due to the medical examiner's determination," the Hampton County Sheriff's Office announced on Wednesday, "the Hampton County Sheriff's Office requested the South Carolina Highway Patrol (SCHP) to investigate Mr. Smith's death rather than SLED."
WATCH: Stephen Smith's Body was Found Near Murdaugh Hunting Lodge
The assessment of the cause of death was critical since Smith's death was turned over to the highway patrol, which investigates vehicular fatalities, rather than SLED, which assists local agencies in investigating murders.
Recommended: Alex Murdaugh Murder Trial Explained
"We don't believe it was ever elevated enough to invoke SLED's full investigative authority," Ronnie Richter, an attorney for Smith's family, told NPR on Wednesday. "It has done so now."
Just left the Murdaugh Auction preview…
Smith's popularity grew as a result of the Murdaugh case.
This stage of the Smith investigation is taking place against the background of the Murdaugh killings, which occurred around 8 miles away from where Smith's corpse was discovered.
The intense focus on those killings drew new attention to Stephen Smith's death, in part because police reports mentioned the Murdaugh family name several times, including citing local rumors that Alex Murdaugh's surviving son, Buster Murdaugh, was somehow involved.
RELATED: Alex Murdaugh Murder Timeline
Smith was acquainted with the Murdaughs since he attended Wade Hampton High School with Buster. Alex Murdaugh was recently convicted guilty of murdering his wife and youngest son at their residence in the region.
Smith's lawyers claim that now that Murdaugh's murder trial is finished, SLED can devote more resources to solving the 2015 case. Anyone with pertinent information is also asked to phone 803-737-9000 and ask for Investigative Services.
Buster Murdaugh claims the rumors are untrue.
Buster Murdaugh issued a statement last week via his lawyer, Jim Griffin, claiming he had nothing to do with Smith's murder. He also claimed to have been "targeted and harassed" by the media and fans of the tale.
"This has been going on for far too long," Murdaugh said. "These baseless rumors about my involvement with Stephen and his death are false; I categorically deny any involvement, and my heart goes out to the Smith family."
Murdaugh said that he had not spoken out about Smith's "tragic death" sooner because he was attempting to retain his privacy while mourning his mother and brother, as well as watching his father's criminal prosecution.