MOSCOW, IDAHO – Idaho murders victim Kaylee Goncalves' family shared a touching tweet about her dog, Murphy, stating he is "having his best life with Jack," Kaylee's ex-boyfriend.
They have also built up an Amazon Wish List for Murphy, including 'Pet 'n Shape Beef Bone Dog Treats', 'ANGIEHAIE Dog Delights Chewy Lamb Stick Grass Feds,' and 'Mammoth Flossy Chews Rope Tug'. Murphy has been living with her ex-boyfriend Jack DuCoeur since Kaylee's death.
"This is for everyone who has inquired about Murphy. Murphy is having the time of his life with Jack "On Facebook, the Goncalves Family Page stated. "Murphy is overjoyed since he gets to embark on so many adventures.
Several people have asked whether they may give him anything, so we created an Amazon Wish List for him. We want you to understand that this is a wishlist, not a necessity list.
In Murphy's honor, we will be giving numerous items to our local animal shelter. Apart from God, the only thing our family needs is all of you. We are very grateful for all of your encouragement, good wishes, and prayers. Much love to everyone!!"
On November 13, 2022, suspect Bryan Kohberger is suspected of fatally stabbing Kaylee Goncalves, 21, Madison Mogen, 21, Xana Kernodle, 20, and Ethan Chapin, 20, at their off-campus three-story leased house. On December 30, 2022, he was apprehended in Albrightsville, Pennsylvania.
This warms my heart
One social media user commented on the Facebook page, stating, "I hope Jack receives as much love and comfort from Murphy as Murphy boy does from him and the rest of the world.
We still adore and support you all tremendously ". "You have got us, the world has thrown its arms around you, and we pledge not to let go until you see justice for your precious daughters," said another.
According to one user, "I've been following from the beginning… I frequently think about all of you… I hope that God provides you all serenity and strength when things become tough… Many blessings and prayers from Palm Springs, Florida ".
"My heartfelt condolences to the Goncalves family and Murphy!!" "Murphy is adorable and being taken such wonderful care of," one person said, while another added, "Murphy is cute and being taken such excellent care of." As one person put it, "I just adore this. This makes me happy.
I am always thinking about you all ". "we love you all so much and we're so glad to get a look into Murphy's life with jack sending you all so much love and light always xoxoxoox".
Bryan Kohberger was carrying images of the victim on his phone.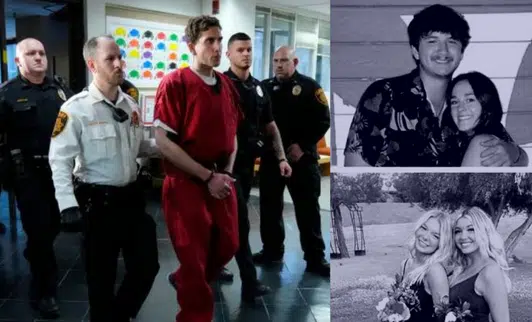 It was recently found that Kohberger possessed images of one of the female victims on his phone, although it is unknown if the photos belonged to Kaylee, Madison, or Xana.
During his arrest, investigators seized Kohberger's phone, which had images of the victim. It's unknown if Kohberger took the images himself or acquired them from the victim's social media.
According to People, "he had more than one image of her," and "it was evident that he was paying attention to her." People stated that two weeks before the killings, Kohberger sent a series of messages to one of the victims on Instagram.
Except for a drug issue, he allegedly had a spotless record. He was a Ph.D. student in the Department of Criminal Justice and Criminology at Washington State University.