A gory crime scene left in the aftermath of four college students slaughtered in Idaho might aid investigators in their quest for the perpetrator, according to court records released Wednesday.
It took almost two months for detectives to apprehend and charge Bryan Kohberger in the November 13 stabbing killings of four University of Idaho students at an off-campus residence in Moscow.
Authorities felt the perpetrator left the scene with evidence that may possibly link him to the crimes, which helped them narrow down certain critical elements to investigate.
The suspect's house and workplace "contained a significant amount of blood from the victims, including spatter and castoff (blood stain pattern resulting from blood drops released from an object due to its motion)," according to a probable cause petition requesting a search warrant for the suspect's home and office.
The paper, which is based on a statement by Moscow police Sgt. Dustin Blaker, emphasizes that evidence from an undamaged dog discovered at the residence, as well as blood, skin cells, or hair from the victims, might have been transferred onto the killer's clothing, shoes, or body.
"It is likely that some trace evidence was transferred to areas in his apartment through contact with items worn during the attack," according to the statement. "One likely location for the clothes/mask/shoes that he was wearing during the attack would be his residence."
The unsealed search warrant is part of a 49-page document made public by Whitman County Court in Washington state on Wednesday, describing different investigation facets of the case that has attracted national attention and unnerved the tiny college town of Moscow.
The search warrant, which was executed on December 30, authorized officials to seize various pieces of evidence, including DNA, from Kohberger's residence in Pullman, Washington, approximately 10 miles from Moscow.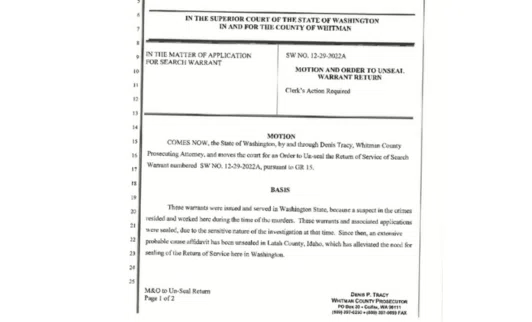 According to a court document, police collected roughly a dozen hair strands, one probably belonging to an animal, cuttings from a pillow with a reddish-brown stain, and part of a mattress cover with stains.
According to the affidavit, other materials collected from the residence include a nitrate-type black glove, retail receipts and a Dickies tag, dust from a vacuum, a Fire TV stick, and a computer tower.
The court filings made public on Wednesday did not identify any possible goods stolen from Kohberger's office at Washington State University, where he was studying criminology until being detained on December 30 at his family's home in Pennsylvania.
It is unclear if anything was recovered or whether material pertaining to the execution of that search order is still under secrecy.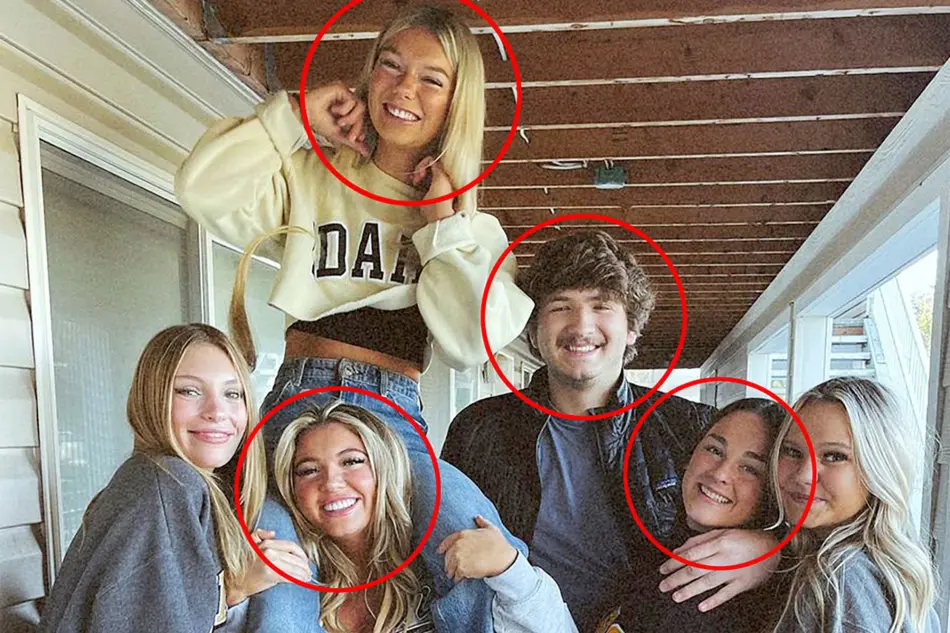 Kaylee Goncalves, 21, Madison Mogen, 21, Xana Kernodle, 20, and Ethan Chapin, 20, were all killed by Kohberger, who has been charged with four counts of first-degree murder. He has yet to enter a plea.
After Kohberger waived his right to a speedy hearing, a judge ruled last week that a probable cause hearing in the case would begin on June 26. He is presently being jailed without bond at Idaho's Latah County prison.
Suspect connected to murders via DNA and car
The court records were unsealed about two weeks ago, nearly two weeks after Idaho authorities publicly disclosed a probable cause affidavit in the case against Kohberger, offering a first look at how they focused their search.
Authorities sought the public in December for help locating a white Hyundai Elantra that they suspected was in the "immediate area" of the crime sites at the time of the deaths.
According to court filings quoting Washington State licensing records, Kohberger got a new license plate for his white Hyundai Elantra five days after the killings.
According to two law enforcement officials informed on the inquiry, detectives tracked ownership of the Elantra back to Kohberger as tips from the public flooded in.
Following the killings, Kohberger allegedly traveled from Washington to Pennsylvania to spend the holidays with his family. According to court filings, Pennsylvania law police seized garbage from the Kohberger family property and transported it to an Idaho facility to be tested for forensic evidence.
According to court filings, the next day "the Idaho State Lab reported that a DNA profile obtained from the trash" matched a tan leather knife sheath discovered "laying on the bed" of one of the victims.
According to the papers, Kohberger's phone was near the students' house between 9:12 a.m. and 9:21 a.m., only hours after he allegedly murdered the university students.
According to court filings, Kohberger's phone was also near the victims' home at least 12 times between last June and his arrest.