As the last witnesses in the South Carolina double Murdaugh murders trial testified and the court prepared to send jurors to the site of the deaths, Alex Murdaugh's former law partner indicated Tuesday that he had moved on from his resentment over millions of dollars taken from the company.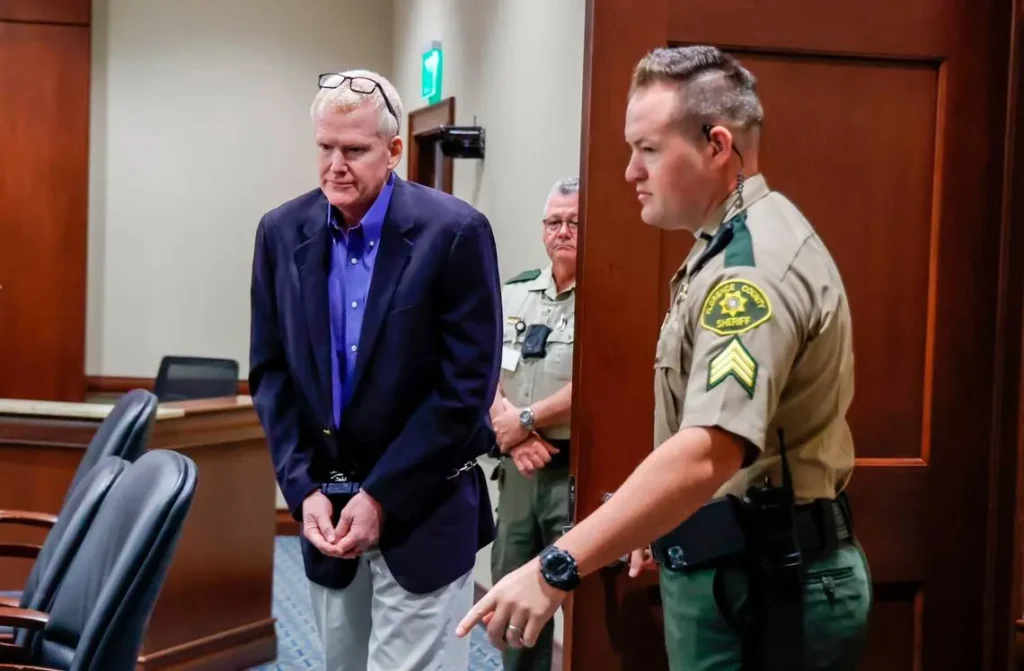 After prosecutors received an opportunity to respond to the defense's evidence, including rebutting its experts who said two distinct shooters murdered Murdaugh's wife and children, Ronnie Crosby had a testy conversation with defense attorney Dick Harpootlian.
On Wednesday, jurors will journey for 40 minutes to visit the Murdaughs' vast Colleton County estate. They will not be able to offer testimony or ask questions. They will then return to the courtroom for closing arguments.
Prosecutors called Crosby back to the stand to discuss Murdaugh taking millions of dollars from his customers and the company created by the Murdaugh family more than a century ago.
Authorities claim Murdaugh murdered 52-year-old Maggie Murdaugh and 22-year-old Paul Murdaugh near kennels on June 7, 2021, because he felt he was going to be caught stealing.
Alex Murdaugh's Defense Team Will Relax Monday After His Bombshell Confession On The Stand
During cross-examination, Harpootlian questioned Crosby, who often defends accident victims, whether trauma might lead individuals to forget information or miscalculate timeframes.
Prosecutors have hammered Murdaugh for a variety of discrepancies and falsehoods, including failing to disclose he was at the kennels the night of the death despite being heard on camera by his son.
"You're trying to lead me someplace you probably don't want to," Crosby responded, kicking off a heated debate between the lawyers.
"You're upset with him because he stole your money," Harpootlian said.
"I have been furious with him, Mr. Harpootlian, because of what he did to my legal practice, my partners, his clients, our clients — what he did to his family. "What he has done to so many people," Crosby snarled. "But you can't go around angry."
Harpootlian then questioned Crosby whether he believed Murdaugh had murdered his wife and children.
"I'm not sure what I think. "I don't have access to the materials you do," Crosby said.
Alex Murdaugh's Brother Sheds Tears While Recounting Cleaning Up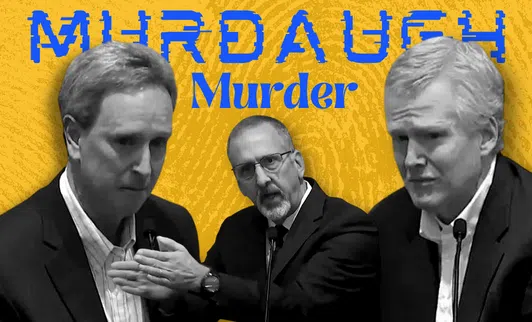 Murdaugh is facing more than a hundred more allegations, including financial fraud. Murdaugh, who has been prohibited from practicing law, acknowledged the thefts, which may result in decades in jail, on the stand last week.
Prosecutors also brought the doctor who performed the autopsies on the victims and their expert who investigated the crime scene back to the stand.
According to Kenneth Kinsey, a defense expert who measured the angles of the shots and concluded they were fired closer to the ground or by someone much shorter than the 6-foot-4 (1.93-meter) Murdaugh failed to account for the fact that the shooter and Maggie Murdaugh were both moving and the gun could have been fired from different positions.
"I believe he had good intentions, but his tactics were wrong," Kinsey said.
The defense also utilized specialists to imply that there were two shooters, based on the fact that the victims stopped using their telephones within seconds of each other. With their hands down, both victims seemed astonished.
Kinsey said that he was satisfied the fatal bullet to Paul Murdaugh was fired from low and up through the skull rather than downward with the pistol pushed against his head.
A burst from the weapon's barrel, according to the defense expert, would have dazed the shooter with bone pieces, blood, and other gore, delaying the time the shooter might have gone after Maggie Murdaugh.
Dr. Ellen Riemer stated that she stands by her autopsy conclusions that the fatal shot was fired upward. According to a defense expert, Riemer did not cut the hair off Paul Murdaugh's wound or X-ray his brain to validate her results.
"You didn't take X-rays of the brain because you already had your conclusion," Harpootlian said.
"I didn't because I was confident in my resolve," Riemer said. "I do not usually X-ray every organ."
The prosecution also summoned Charleston County Sheriff's Office sergeant Paul McManigal, a cellphone specialist.
The purpose was to contradict a defense expert who argued moving an iPhone caused its backlight to turn on.
Maggie Murdaugh's iPhone was discovered on the side of the road outside the residence, and the backlight illuminated approximately two minutes before GPS data revealed Alex Murdaugh's Vehicle passing by.
McManigal said that he tried a comparable iPhone in his workplace last week and discovered that the backlight turns on with a delicate movement but not as often with a rapid movement.
Philip Barber, the defense counsel, inquired if McManigal kept notes or recorded his tests.
"So you're alone in your office, tossing the phone about, taking no measurements, recording nothing over the weekend, and you walk in here as an authority on what the phone would do?" Barber stated.
Defense counsel requested that the jury be allowed to view the crime scene to better appreciate the size of the storage room where Paul Murdaugh was slain and the distance between the two corpses.
Prosecutors opposed the visit, claiming that the setting has changed since June 2021 because trees and plants have grown and no one has resided on the site since the deaths.
Just the jury, counsel from both sides, security, police, and a court reporter are permitted to attend, according to Judge Clifton Newman. He prohibited drones from flying above. As the jury departs, one reporter, photographer, and cameraman will be permitted to examine the property.
He reminded jurors on Tuesday that time has gone and that it is now the end of winter rather than the beginning of summer.
"I concluded that being able to watch the situation everyone is talking about would be useful to you," Newman said.