Bryan Kohberger will not be back in court until June. Even after that appearance, a preliminary hearing in the Latah County Courthouse, it will be a while before a jury trial can be formed.
The 28-year-old is suspected of stabbing four University of Idaho students to death in November at an off-campus house.
The prosecuting attorney is expected to submit evidence during the hearing on June 26 that demonstrates there is probable cause to suspect Kohberger committed the offences.
In the Nov. 13 assault that killed Madison Mogen, 21, of Coeur d'Alene, Kaylee Goncalves, 21, of Rathdrum, Xana Kernodle, 20, of Post Falls, and Ethan Chapin, 20, of Mount Vernon, Washington, Kohberger faces four charges of felony first-degree murder and a felony burglary charge.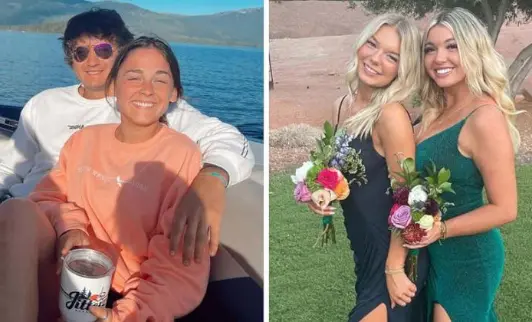 If he enters a not-guilty plea, the court will schedule a trial date. A few key uncertainties remain, including whether the trial will be relocated to a different county.
A move for a change of venue may be filed by either the prosecution or the defence.
If approved, the trial would be moved to a county other than Moscow, the approximately 26,000-person college town in North Idaho that has drew persistent attention from national news sources and true crime fans in the months after the four students' murders.
According to Fremont County Prosecuting Attorney Lindsey Blake, one of the main reasons for shifting the site is the impact of pretrial publicity on possible jurors.
Blake takes up the prosecution of Lori Vallow Daybell and Chad Daybell, who are accused of numerous counts of first-degree murder and conspiracy to commit murder in the murders of two of Lori's children and Chad Daybell's first wife, Tammy Daybell, in early 2021.
Chad Daybell's counsel sought a change of venue for the trial, alleging that the court's capacity to choose a fair and impartial jury in Fremont County, East Idaho, would be hampered.
The trial was moved to the Ada County Courthouse in Boise after a judge approved the request.
Although the case remains in Fremont County, the jurors will be from Ada County.
The judge has the authority to relocate a trial, according to Blake. Most of the time, she continued, it is at the request of the defence rather than the prosecution.
"Each case is decided on an individual basis," Blake said over the phone to The Idaho Statesman.
"But, a lot of the time, they're looking at pre-trial publicity. They believe they may get a more unbiased jury."
According to the Idaho Supreme Court, a judge may move the venue of a trial if there is cause to think that an impartial trial cannot be conducted in the county where the case is filed, or if the change will benefit witnesses and the purposes of justice.
The Statesman interviewed Latah County Prosecuting Attorney William Thompson at his Moscow office on December 28, two days before Kohberger's arrest.
When asked whether he believed an impartial jury could be found in Latah County if the matter went to trial, he appeared upbeat.
"I don't see why not, as long as there isn't irresponsible information sharing," Thompson added.
At the time, minimal facts about the inquiry had been made public, and the public was unaware Kohberger had been named as a suspect.
But, in the weeks preceding up to his arrest, Moscow Police Chief James Fry gave many interviews to the media that provided rays of optimism.
Thompson, the prosecuting attorney, said that he is concerned with ensuring that the prosecution is done fairly and legally.
He claims that professional ethics guidelines limit what he may say outside of court because he does not want to promote prejudice in the community.
"We have a legal obligation not to taint the potential jury pool, because when we come to a trial, we need to be able to select jurors who don't have preconceived opinions about what happened, jurors who can be fair and impartial and listen to the evidence in court and make a decision based on the evidence," he said. "It's critical to preserve the integrity of the criminal process."
Yet it's a delicate balancing act. Thompson agreed that the public has a right to know what is happening.
A broad nondissemination order, sometimes known as a gag order, now prohibits lawyers, law enforcement agencies, and anyone involved in the case from speaking or writing about it.
Thompson and Kohberger's court-appointed defence team, Kootenai County public defender Anne Taylor and lead deputy litigator Jay Weston Logsdon, submitted a paperwork Jan. 3 requesting a gag order, saying that the limits would safeguard the "integrity of the case to be presented at trial."
"This lawsuit contains issues that have gotten a lot of attention," both parties stated. "This court has a constitutional obligation as well as inherent jurisdiction to'minimize the consequences of adverse pretrial publicity' and 'ensure the effective administration of justice.'"
Former Idaho Attorney General and Lt. Gov. David Leroy told the Statesman that in the United States, every defendant in a criminal prosecution has the right to a jury trial.
"Those peers are meant to approach any jury duty as neutral and without preconceived notions," Leroy said. "Jurors must judge whether someone has been proven guilty beyond a reasonable doubt simply by evidence presented in court."
This proof may take several forms, such as scientific testing and witness testimony. Authorities utilised Genetic evidence, car and telephone data, and other surveillance to discover Kohberger, according to the 19-page probable cause document used to arrest him.
The closeness to the crimes, according to Leroy, distinguishes Moscow inhabitants from the rest of the state.
Conversations in the neighbourhood, as well as the temptation for news crews to drive by the King Road house where the four kids were slain, have been persistent, according to Leroy.
Kohberger's defence team, according to Leroy, would likely assume that obtaining a jury in Latah County without prior views on the issue would be difficult.
He suggested Lewiston, in Nez Perce County, some 30 miles south of Moscow, as a possible change of venue.
Coeur d'Alene in Kootenai County, approximately 85 miles north, or Boise in Ada County, about 300 miles south, might also be viable options.
Kootenai County is home to three of the victims.
Despite the fact that Kohberger's next court appearance is more than four months away, the tragic stabbings continue to generate major media attention in Idaho and around the nation.
Reporters swarmed to the site of the triple killing in the days and weeks that followed.
In a Feb. 1 piece on the news coverage, the university's student newspaper, The Argonaut, noted that "nobody could have predicted the swarm of cameras and out-of-town reporters that swarmed" on U of I's campus and around the town.
According to Argonaut, students have been vocal about their dissatisfaction with all of the attention on social media.
"With a high-profile, high-publicity case like this one, it's going to be extremely tough to locate someone in Idaho who hasn't heard anything about it," Leroy said.