According to authorities, the gunman who murdered six people at a school in Nashville, Tennessee, on Monday purchased seven firearms lawfully and concealed them at home.
According to investigators, the suspect's parents believed the 28-year-old should not own firearms and were unaware the pistols were hidden in their home.
The Covenant School assault murdered six individuals, including three nine-year-old children.
According to authorities, the defendant was under "doctor's care for an emotional disorder."
Officers disclosed that the school was targeted rather than any specific person.
There are no rules in Tennessee that enable authorities to confiscate firearms from aggressive offenders.
Despite the lack of such so-called red-flag legislation, officers said they would have tried to have the firearms seized if officials had been given any indication that the suspect presented a danger.
Evelyn Dieckhaus, Hallie Scruggs, and William Kinney were among the students slain in the assault.
Cynthia Peak, 61, Katherine Koonce, 60, and Mike Hill, 61, were also killed at the privately operated Christian school.
The parents of the perpetrator, Audrey Hale, who was slain by police less than 15 minutes after the assault started, have been contacted by authorities.
Hale, a previous pupil at the school who identified as transsexual, was equipped with three firearms, including a semi-automatic weapon.
The assault occurred after the murderer performed spying, made plans, and penned what authorities characterized as a "manifesto."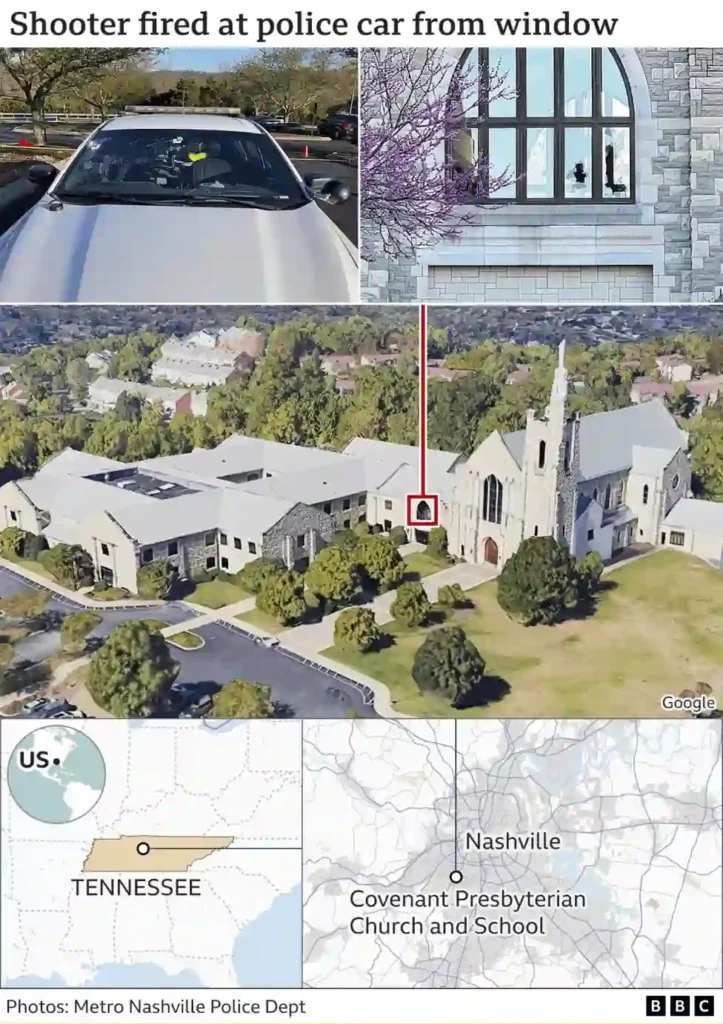 According to a police spokesperson, the assailant did not specifically target anyone, but did target "this school, this church building."
Hale's parents believed the perpetrator had only one pistol, which had been sold.
They thought the defendant "should not own weapons," and were ignorant he "had been hiding several weapons within the house," according to Nashville Police Chief John Drake on Tuesday.
The firearms were lawfully bought from five different stores throughout the city.
Chief Drake said the murderer was "under care – doctor's care – for an emotional disorder." He did not elaborate.
He added that if there had been complaints of suicidal or aggressive inclinations, authorities would have tried to seize the firearms.
"However, as it stands, we had no idea who this person was or if [the suspect] even existed," he explained.
On Monday, police got the first report about the event at 10:13 a.m. local time (15:13 a.m. GMT).
The perpetrator arrived at the school in a Honda Fit and gained entry by shooting through one of the closed entrances.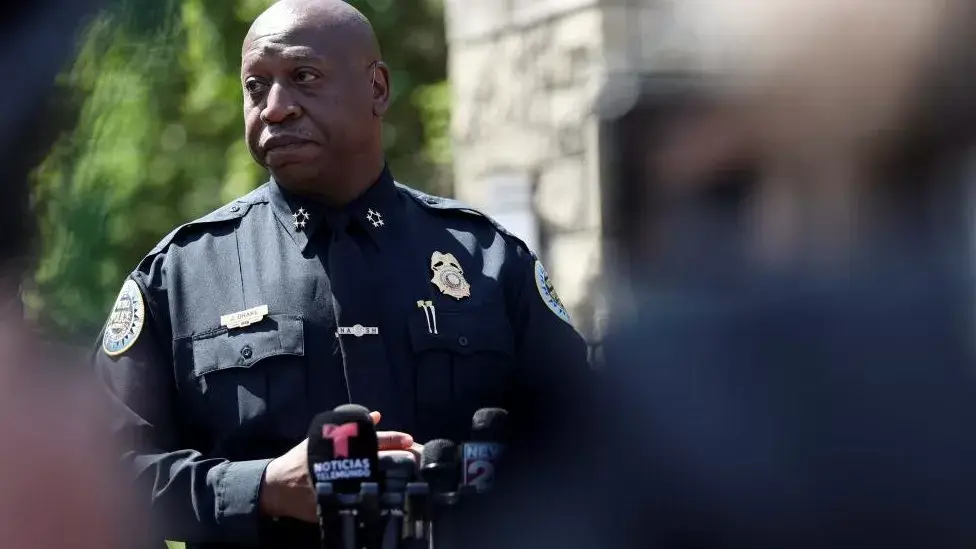 Later revealed video by Nashville police shows the gunman starting fire to break glass windows on the front doors, then roaming the school's empty hallways, passing by a room labeled "Children's Ministry" at one point.
The culprit is seen on CCTV donning a safety jacket and holding an assault-style gun in one hand, with a second weapon visible dangling from his left buttock.
The perpetrator opened fire on the main level before advancing to the second story.
As police vehicles approached, the gunman opened fire from the second story, hitting one in the windshield.
"We believe there was some training to be able to shoot from a higher level," said Chief Drake.
He stated that the perpetrator had moved away from the window in order to prevent becoming a focus for officers.
Broken glass wounded one cop. According to Chief Drake, police raced inside and shot the perpetrator deceased at 10:24 a.m.
President Joe Biden called on Congress on Tuesday to approve new gun control measures.
"We owe these families more than our prayers as a nation," he said. "We owe them something."
During a Senate meeting in Washington, DC, US Attorney General Merrick Garland was questioned if the assault will be probed as a hate crime against Christians.
He stated that it was too early to speculate and that officers were still trying to determine a reason.
According to Gun Violence Archive, a non-profit that monitors gun violence statistics, the assault was America's 131st mass shooting this year.
According to an Associated Press database, there have been 15 mass killings at colleges or institutions in the United States since the Columbine High School tragedy in 1999.