Alex Murdaugh Court Return: Former lawyer Alex Murdaugh appeared in a South Carolina courtroom Thursday for the first time since being convicted of murdering his wife and younger son six months ago, as he faces the next phase of the state's sprawling case against him — a web of alleged financial crimes involving two co-conspirators.
Prosecutors said Murdaugh, 55, was facing 101 counts totaling $8.8 million in damages to people harmed by the alleged offenses.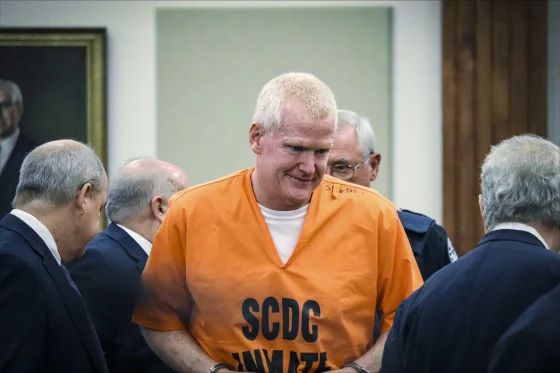 Murdaugh appeared before the General Sessions Court of Beaufort County. Cory Fleming, a former lawyer and college roommate, and Russell Laffitte, an ex-banking CEO who prosecutors allege assisted him in plots to cheat customers from at least 2005 to 2021, also appeared in court Thursday.
A chronology of Murdaugh's legal difficulties
After arguing for a postponement, Murdaugh's counsel finally agreed to a trial date of Nov. 27. Fleming got a 20-year term to run concurrently with his 46-month federal sentence. The verdict of Laffitte's court case has been postponed.
Murdaugh entered the courtroom via a side entrance, shackled and dressed in a bright orange jumpsuit. His hair looked to have grown back after being shaved in jailed.
Circuit Judge Clifton Newman, who ruled over Murdaugh's murder trial, also presided over this session, during which the former attorney sat and gazed straight ahead.
Murdaugh was eventually hauled out in the same manner he came in. He was only in the courtroom for around 30 minutes.
Murdaugh was last seen in court in March, when he was sentenced to life in jail without the possibility of release for the deadly shootings of his wife, Margaret, 52, and son Paul, 22, in June 2021 at the family's hunting lodge estate.
Prosecutors accused him of murdering his wife and son in order to gain sympathy and distract from financial crimes that threatened to derail his reputation in South Carolina's Lowcountry, where three generations of family patriarchs had wielded power as the top prosecutor for decades.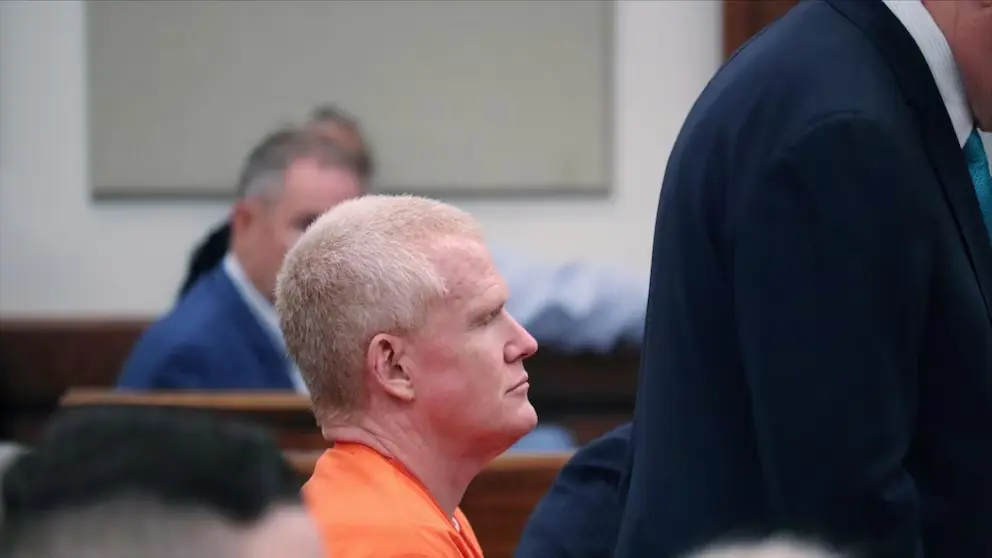 Newman granted the prosecution a crucial victory by allowing the jury to hear evidence of Murdaugh's alleged financial misconduct.
However, that information formed an instant part of Murdaugh's defense.
The former attorney's counsel, Dick Harpootlian, underlined in court Thursday that Murdaugh's high-profile murder trial ended just six months ago. It was shown on national television, podcasted, blogged, and extensively debated on the internet, which prompted him to shift venues, he said.
"Where are you going to get a jury to try this case in less than a year than the other case?" He inquired. "Mars?"
Murdaugh's counsel also said that they had demanded a fresh murder trial because he claimed the jurors had been interfered with by the court clerk. He accused the prosecution of "another attempt to create a national spectacle," and claimed that the financial case should not continue until the murder case was resolved.
Rebecca Hill, the Colleton County clerk of court, is accused by Murdaugh's defense team of tampering with the jury by "advising them not to believe Murdaugh's testimony and other evidence presented by the defense, pressuring them to reach a quick guilty verdict, and even misrepresenting critical and material information to the trial judge in her campaign to remove a juror she believed to be favorable to the defense."
Following six weeks of evidence, the jury deliberated for less than three hours before finding Murdaugh guilty of two charges of murder and two counts of using a weapon during the commission of a violent felony.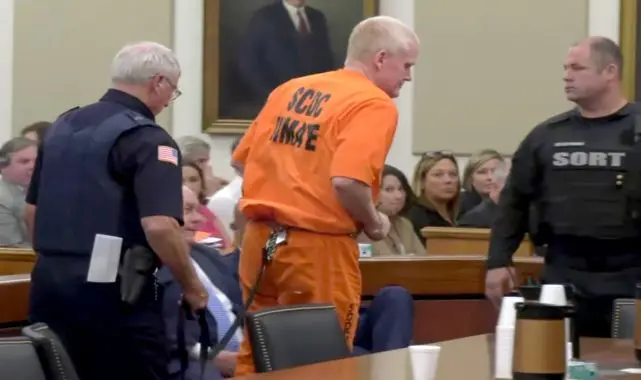 The charges, according to Hill, are "untrue."
The South Carolina Law Enforcement Division has been requested to examine the charges of jury manipulation by South Carolina Attorney General Alan Wilson, whose office is prosecuting Murdaugh's murder and financial crimes prosecutions.
Murdaugh testified in his own defense during the murder trial, and although he denied killing his wife and son, he acknowledged to some financial misbehavior.
He is now facing over 100 counts in state and federal courts, ranging from money laundering to tax evasion to bank fraud.
Prosecutors claim that one such conspiracy had his conniving with Fleming to steal insurance settlement monies from the Murdaughs' longtime maid, Gloria Satterfield. Satterfield died in 2018 as a result of a "trip and fall accident" at the family home.
According to prosecutors, Murdaugh directed Fleming to write checks totaling over $3.5 million to a bank account that he utilized for his own personal profit, while Satterfield's estate got none of the money.
During Fleming's sentencing hearing on Thursday, prosecutors made clear reference to Satterfield's case. Creighton Waters, the lead attorney, pointed to Satterfield's family members in the front row.
"It was a shakedown," remarked Waters. "Plain and simple."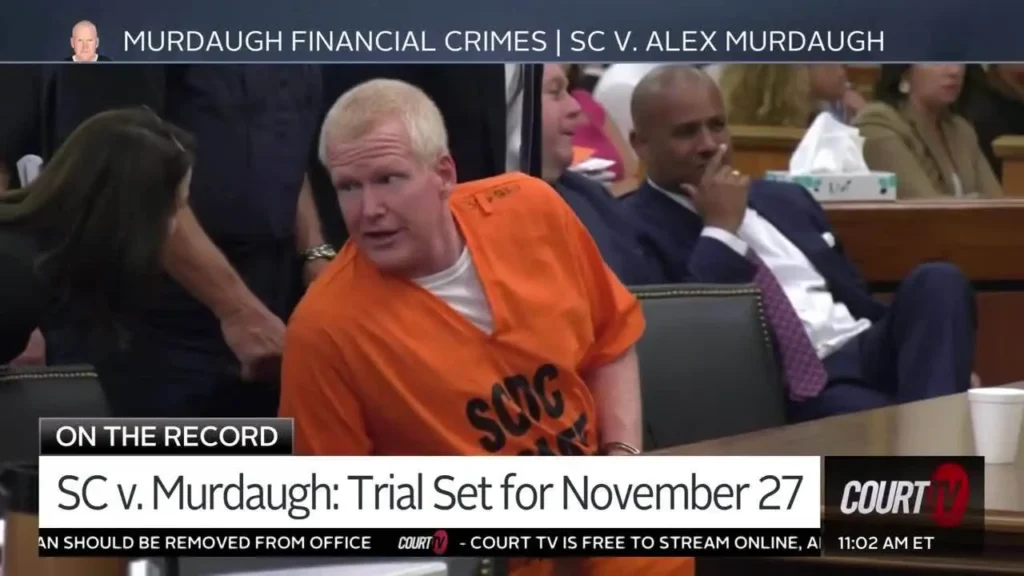 Fleming was sentenced to almost four years in federal prison in August after pleading guilty, and he was also required to pay restitution and a fine. He pled guilty to state charges and appeared in court on Thursday to face Newman's sentence.
Deborah Barbier, Fleming's defense attorney, said that her client had previously accepted responsibility and was "not making excuses."
"He has stepped up to the plate, and he has fully admitted that he was wrong," she said.
Tony Satterfield, Murdaugh's housekeeper's son, and other family members spoke during the court on Thursday. He said that he forgives Fleming but that it is "up to the judge to decide."
Another victim of Fleming and Murdaugh's alleged plan, Justin Bamberg, had harsher words for Fleming, who glanced down and did not look back at the Satterfield family throughout the session.
"This is a dagger in the heart of the clients who trusted their lawyers," added Bamberg.
Bamberg requested that Fleming, who faced up to 195 years in jail, be sentenced "firmly." Fleming was eventually sentenced to 20 years in prison, which will run concurrently with his federal term. He will spend about four years in federal jail and sixteen years in state prison.
Laffitte, the former CEO of Palmetto State Bank, was sentenced to almost six years in federal prison last month after being found guilty of stealing over $2 million from customers' legal settlements related to Murdaugh. Laffitte has maintained his innocence and said that he intends to appeal.