At a news conference on Tuesday afternoon, Alex Murdaugh's lawyers want to unveil fresh evidence and file a move for a new trial.
Alex Murdaugh, a convicted murderer, has claimed that strange "newly discovered evidence" would allow him to be given a new trial for the killings of his wife Maggie, and son Paul.
In a statement, Murdaugh's lawyers, Dick Harpootlian and Jim Griffin stated that fresh evidence has emerged since his March conviction in the gruesome 7 June 2021 slayings.
This material will be used to support a fresh application for a retrial in the high-profile case.
At a news conference on Tuesday afternoon, the lawyers, who are longstanding friends of the perpetrator and defended him in his high-profile murder trial, will divulge this fresh information and issue the motion.
The briefing is set at 2.30 p.m. local time on the grounds of the South Carolina State House near the Court of Appeals in Columbia.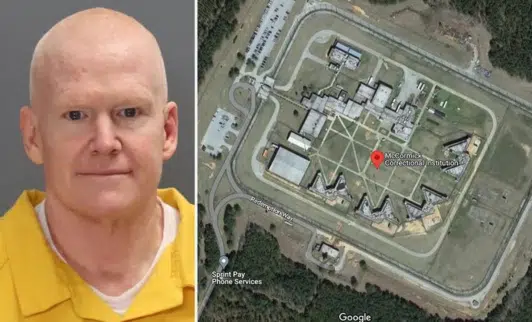 For the time being, the specifics are unknown.
Murdaugh is presently incarcerated in the McCormick Correctional Institution in South Carolina, where he is serving two life terms for the murders of his wife and son.
Murdaugh's jail privileges were revoked last week after he provided material to a Fox Nation program without authorization.
Officials with the South Carolina Corrections Department said on Wednesday that during a jailhouse phone conversation on June 10, Mr Griffin videotaped himself reading aloud items from the notebook he maintained throughout his double murder trial.
Mr Griffin subsequently sent over the tapes to filmmakers working on the upcoming Fox Nation documentary "The Fall of the House of Murdaugh," which was published today.
Inmates are not permitted to speak to the media without authorization under prison policy because the agency "believes that victims of crime should not have to see or hear the person who victimized them or their family member on the news," according to state prisons spokeswoman Chrysti Shain.
According to Ms Shain, the media interview infraction, as well as another violation for exploiting another inmate's password to make a phone call, are prison disciplinary concerns rather than crimes.
As a consequence, the disgraced legal scion's phone privileges have been terminated, and his jail tablet computer has been seized.
Murdaugh was also denied access to the jail canteen for a month.
According to the prison spokeswoman, he will now need permission from prison authorities to get another tablet, which may be used to make monitored phone calls, view allowed entertainment, read books, or attend video lessons.
Mr Griffin was also warned by prison authorities that if he deliberately or innocently assists Murdaugh in violating regulations again, he may lose his right to communicate with his client.
Because phone communications between attorneys and detainees are deemed private, they are not recorded or scrutinized.
However, prison authorities said that they started investigating Murdaugh when a warden monitoring other phone conversations heard Murdaugh's voice on a call made in the account of another prisoner.
Murdaugh stated that his phone password was broken. According to jail documents, he also informed the prison investigators about the taped diary entries.
Murdaugh's usage of a jailhouse tablet earlier made news when FITS News got selfie photographs he shot on the device via a Freedom of Information request.
The convicted family murderer posed topless in numerous of the photographs.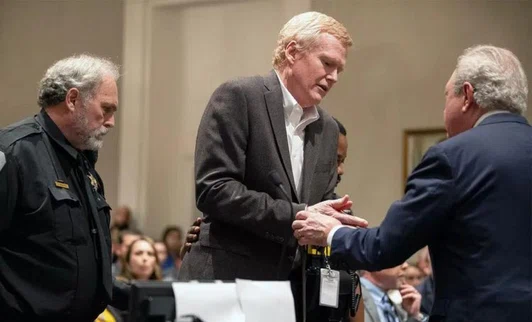 Prison authorities in South Carolina subsequently stated that the images are taken automatically when an offender uses their tablet, which is individually issued to them – as part of inmate surveillance.
Murdaugh now has indefinitely lost access to his tablet as a result of his unauthorized contact with the documentary makers, marking his first media interview of sorts since his conviction.
Buster Murdaugh, his oldest and only surviving son, also spoke up in his first TV interview as part of the three-part series.
Buster stated in the interview that he still thinks his father is innocent of his mother and brother's deaths, but allowed that he may be a psychopath.
Maggie and Paul were discovered shot to death on the family's 1,700-acre Moselle farm on June 7, 2021. Alex Murdaugh had phoned 911 and claimed to have discovered their corpses.
During his high-profile murder trial, jurors heard how Paul was shot twice with a 12-gauge shotgun while standing in the feed room of the rich family's 1,700-acre Moselle estate's dog kennels. The second shot to his head almost blasted his brain out of his skull.
Prosecutors claim Murdaugh then took a 300 Blackout semiautomatic weapon and began fire on Maggie as she attempted to leave her husband.
Throughout the six-week trial, Murdaugh admitted to lying about his alibi on the night of the murders but maintained his innocence.
The jury did not agree, and the discredited legal scion was convicted of the heinous murders in March.
Murdaugh, 55, is also facing a litany of financial fraud charges for taking millions of dollars from his law company clients and the family of his deceased maid.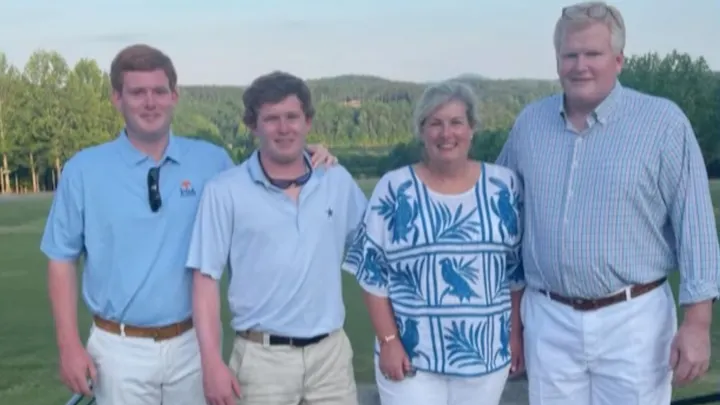 On September 21, he is set to enter a guilty plea to federal charges, the first time he has done so in court.
Murdaugh is also facing over 100 financial counts in state court, as well as accusations stemming from a failed hitman operation in which he alleges he bribed an accomplice to kill him.
Murdaugh's high-profile conviction shed attention on certain other unsolved fatalities connected to the South Carolina judicial dynasty.
Following Maggie and Paul's deaths, investigations into the Murdaughs' longtime maid Gloria Satterfield's death in 2018 and the 2015 slaying of homosexual teenager Stephen Smith were reopened.
Meanwhile, Paul was awaiting trial for the 2019 boat accident death of Mallory Beach at the time of his murder.