According to authorities, the suspect in Monday's deadly killing at a tiny, private Christian school in Nashville, Tennessee, lawfully bought seven firearms from five separate local gun shops and concealed some of those weapons at home.
The Covenant School assault killed three minors and three adults. On Tuesday, Nashville police revealed stunning body camera video from two officers who shot at the culprit, named 28-year-old Audrey Hale.
The police are seen entering the school, following the sound of gunshots to the second floor, and apprehending the culprit in a foyer area on the second level. The footage shows police Rex Engelbert, a four-year veteran, and Michael Collazo, a nine-year veteran, shooting at the subject after an officer yelled "reloading."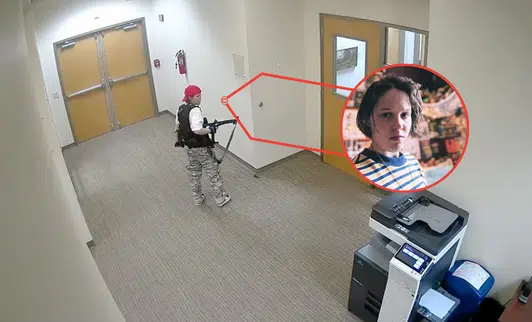 According to authorities, Hale was struck and killed about 14 minutes after the original 911 contact.
While the Covenant School was most likely targeted, Metropolitan Nashville Police Chief John Drake stated that the "students were randomly targeted."
According to authorities, the perpetrator was equipped at the school with two assault-style firearms, a pistol, and "significant ammunition."
According to the chief, Hale, who resided in Nashville, lawfully bought seven firearms from five separate local gun shops.
Drake stated that Hale was under "doctor's care for an emotional disorder," and that Hale's parents "were under the impression that was when she sold the one weapon" they thought Hale possessed.
"She had been hiding several weapons within the house," Drake revealed.
Drake stated that Hale was carrying a red suitcase when she left the house on Monday morning. According to Drake, Hale's mother inquired about what was inside but was "dismissed."
"She didn't look in the bag because she didn't know her daughter had any weapons at the time," Drake said.
According to officers, Hale reportedly fired through a closed entrance on the exterior of the school to obtain access. The perpetrator shot at police vehicles from a second-floor window as officers arrived, according to police.
Evelyn Dieckhaus, Hallie Scruggs, and William Kinney, all 9 years old, were recognized as the murdered children by authorities. Cynthia Peak, 61, a replacement teacher, Mike Hill, 61, and Katherine Koonce, 60, the school's principal, were named as the adult fatalities.
Drake stated that the deceased was discovered in various places. Hill was hit when the gunman fired bullets through the glass door to gain entry, according to Drake, and Koonce's corpse was found in a corridor.
According to officers, investigators investigated Hale's house and confiscated "a sawed-off shotgun, a second shotgun, and other evidence."
"We do have writings and a book that we consider to be a manifesto," the police superintendent said on ABC's "Good Morning America." "We do have a map of the school with diagrams of how she would enter and proceed to take on potential victims."
"As of now, we have not been able to determine a motive," the superintendent said. "The investigation is still very much ongoing."
There is also "some speculation that the shooter did reach out to maybe a friend or some other people, but that's unconfirmed as of right now," Drake said.
"As soon as we learn more, we'll keep putting the facts out there," he continued.
Drake informed reporters on Monday that the subject was female and described as transsexual, but he did not quickly provide any additional information. A police spokeswoman subsequently told ABC News that the suspect was designated female at birth, but she referred to a social media account associated with the accused gunman that used the pronouns he/him.
According to authorities, the Covenant School, which serves infants through sixth grade, does not have a school security officer. There are approximately 209 pupils and 40 to 50 faculty and staff employees.
The Covenant School said in a statement published Monday night that its community is "heartbroken."
"We are in shock and grieving tremendous loss as a result of the terror that shattered our church and school," the school said. "We are focused on loving our students, families, faculty, and staff while also beginning the healing process."
"There's nothing more heartbreaking than responding to a child," Nashville Fire Chief William Swann explained to ABC News' "GMA3." "That moment transforms everything for you because we can all relate to its innocence."
President Joe Biden described the killing as "a family's worst nightmare" on Monday.
Karine Jean-Pierre, White House press assistant, emphasized that Congress must move on gun reform.
"We need courage from congressional Republicans," she told ABC News' "GMA3" on Tuesday. "What do you tell those parents?" What do you say to those people's families? You can't tell them, 'There's nothing else we can do.' That is not their role as lawmakers."
The "majority of Americans want common sense gun safety laws, including a ban on assault weapons." "These are war weapons," she explained. "The president has contributed." Congress must play their role."
The ABC News This report was co-written by Alex Faul, Matt Foster, James Hill, Doug Lantz, Molly Nagle, Darren Reynolds, John Santucci, and Moe Zoyari.