Idaho Murders Updates: The FBI is seen outside the residence where four Idaho University students were murdered as they do 3D imaging of the crime scene in preparation for suspect Bryan Kohberger's eventual trial.
The house was supposed to be razed following the murder case, but that has been postponed since Kohberger, 28, surrendered his right to a fast trial.
Due to the delay, detectives have been able to develop a comprehensive 3D model of the residence, perhaps saving jurors from having to view a scene that was left "dripping in blood."
A memorial to the slain students will be built on the location where Madison Mogen, 21, Kaylee Goncalves, 21, Xana Kernodle, 20, and Ethan Chapin, 20 perished.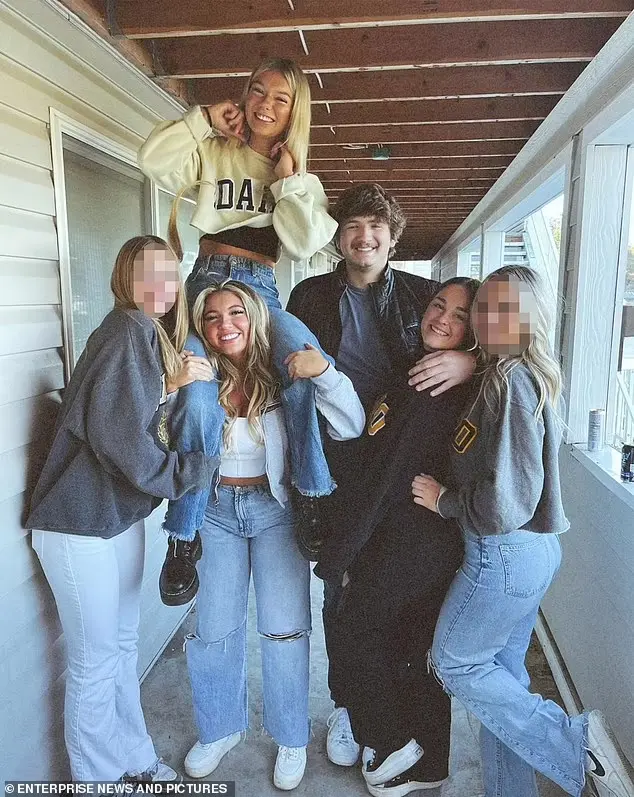 After a demolition order was postponed, FBI investigators returned to collect further evidence from the residence where Bryan Kohberger allegedly murdered four University of Idaho students.
Last week, investigators went on the Moscow home to collect accurate measurements of each room for 3D modeling that would be shown to the jury when the macabre case goes to trial.
The university, which now owns the building, had intended to demolish it once the hearing began, but that has been postponed due to Kohberger's decision to forego his right to a quick trial, allowing the FBI to develop a stronger case.
It also means that jurors may be spared a visit to the 'dripping in blood' mansion, which might have been thrown out if Kohberger's counsel judged it would bias his case.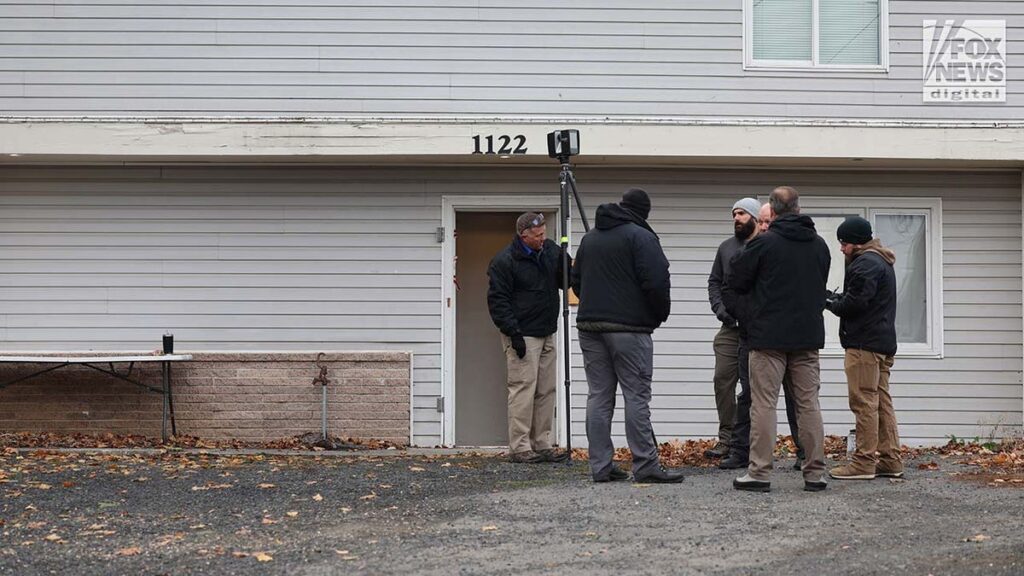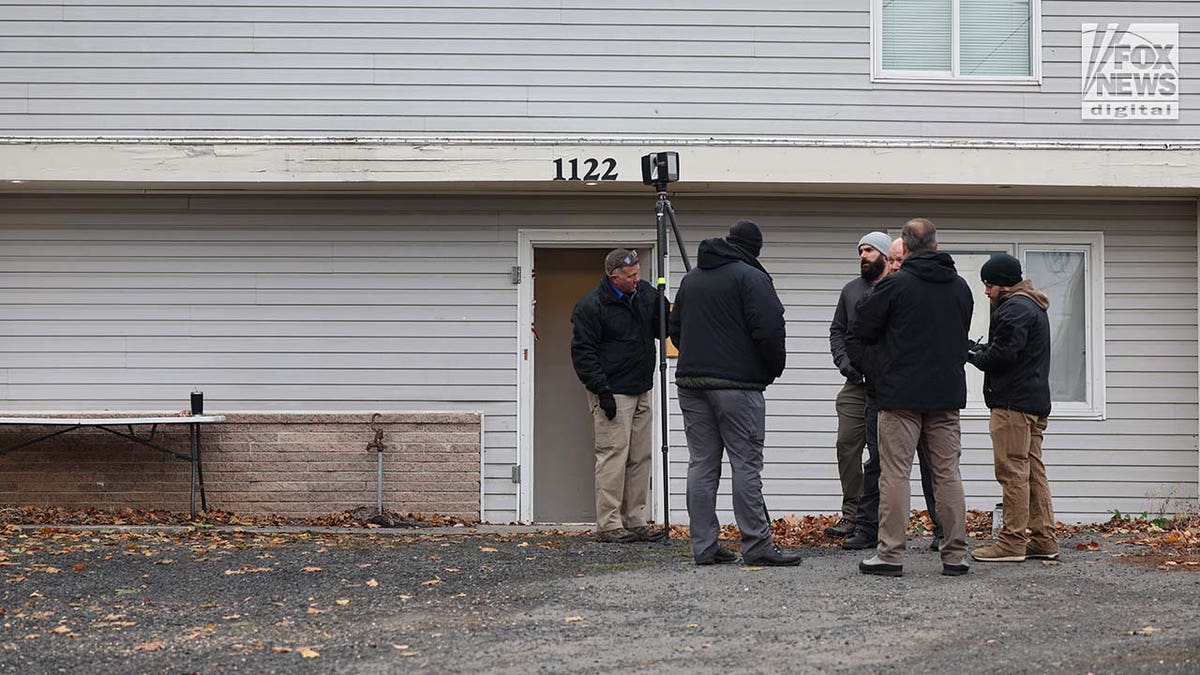 'Visual displays take months to construct and were not viable under the timetable of an October trial,' according to a statement from the institution.
'While the dimensions and information required to make a model were gathered during the first investigation, the FBI is now using this prolonged trial schedule to acquire its own measurements and photographs now that the personal property has been removed from the premises,' the statement continued.
The former criminology student was arrested on December 30 during a raid on his parents' Pocono Mountains, Pennsylvania, home before being transported back to Idaho in a tiny Pilatus PC-12 turboprop plane on January 4.
Prosecutors in Idaho are seeking evidence that Kohberger, 28, came into the group's shared house in the early hours of November 13 last year before brutally killing Madison Mogen, 21, Kaylee Goncalves, 21, and Xana Kernodle and Ethan Chapin, all 20.
On October 26, he was denied his latest effort for freedom after failing to get his murder charge dismissed owing to what he said were erroneous Grand Jury instructions.
A judge approved his attorneys' request to see genetic genealogy evidence produced against their client five days later.
The defense previously stated that they would challenge the premise that Kohberger's DNA was found on the knife sheath at the scene. They also say that DNA from three additional unidentified persons was discovered at the crime scene in Idaho.
The defense also wants to know how the FBI utilized DNA to establish family trees, which led them to Kohberger and his father in Scranton for his early-morning arrest.
Kohberger has been imprisoned in the Latah County Jail, where prison sources say he spends his time obsessing over TV coverage of the case and has turned to God, meeting with a local preacher every Sunday.
Madison, Kaylee, Ethan, and Xana were discovered dead in their beds in November 2022, shocking the quiet college town of Moscow, which had not experienced a single homicide in seven years.
Police originally looked perplexed by the deaths, issuing a series of contradicting comments about whether the students were targeted and if the public was in danger.
They posted a snapshot of a white Hyundai Elantra and a request for more information about the vehicle's activities and owner shortly before Thanksgiving.
The automobile turned out to be Kohberger's, who was stopped over twice while driving the vehicle back to Pennsylvania in early December.
Since his arrest, it has come to light that loner Kohberger struggled with heroin addiction in his teens and early twenties and was barred from a club near his parent's house for his strange conduct toward women.
According to police sources, after moving to Pullman, Washington, to pursue a Ph.D. in criminology, he tried to work for the Washington State University police department but was turned down.
Fellow classmates stated he showed exceptional interest in the Moscow murder case and characterized his sexist attitude toward women in the class.
On December 19, only days before his arrest for murder, he was sacked by his professor at the WSU criminology department, John Snyder, for his 'rude behavior' with women and his predilection for grading them differently.
A Dateline article revealed more proof of his unusual conduct with a female acquaintance at WSU alleging he broke into her house a month before the killings and moved her stuff about to make her feel 'uneasy'.
She also said she had requested him to set up security cameras to assist her in catching the person who had moved her items, only to discover he was the offender and, more frighteningly, had enjoyed access to the film.
Kohberger is said to have painstakingly planned the murders of Madison, Kaylee, Ethan, and Xana, with a probable cause statement stating that he had visited the area around their house several times before to the deaths.

The paper further stated that his DNA was detected on a KA-BAR knife sheath discovered close to Kaylee and Madison's deaths, and that he was seen in the residence by roommate Dylan Mortensen, 19.
Kaylee and Madison were found dead in bed next to each other, while Ethan and Xana were located on the level below, with Xana slumped over on her bedroom floor.
Survivors Mortensen and Bethany Funke heard part of what happened, according to the affidavit, with Mortensen telling detectives she heard Goncalves remark 'there's someone here' at around 4 a.m.
Ten minutes later, she heard a thump and screaming from Xana's room, followed by a masculine voice saying, "It's okay, I'm going to help you."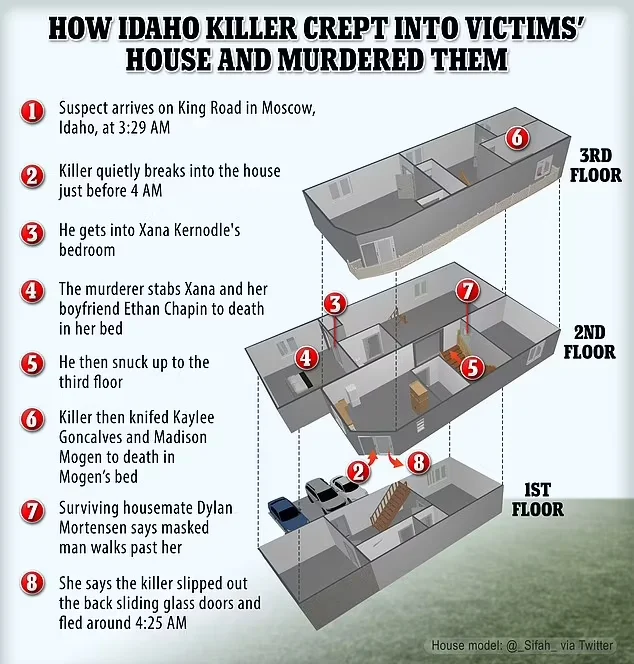 A dog was filmed barking loudly on a neighbor's surveillance camera at 4:17 a.m. Mortensen claimed she opened her bedroom door again at the same time and witnessed a tall guy with bushy eyebrows go through the sliding glass doors at the back of the house.
She recalled being 'stuck in astonishment' when the black-clad guy approached her and locking herself in her room after he departed.
Later, a shoe print was discovered outside her door.
The affidavit also states that Kohberger's white Hyundai Elantra was caught on camera near the scene before speeding away from the house towards Pullman at around 4.20 a.m.
The car was quickly linked to Kohberger, and police noticed the resemblance between his look and Mortensen's description of the burglar at the rented property.