The suspect Robert Card in the shootings at a bowling alley and a restaurant in Lewiston, Maine, earlier this week has been discovered dead.
Officials verified Robert Card, 40, died of an apparent, self-inflicted gunshot wound.
"Tonight the city of Lewiston and the state of Maine can begin to move forward on what will be a long and difficult road of healing," Mills said. "Robert Card is dead."
It's not clear when he died but that is under investigation, authorities added.
Officials say Card's corpse was recovered at approximately 7:45 p.m. Friday in Lisbon Falls, Maine, along the Androscoggin River. The particular location was not given.
Now, the community in Lewiston is concentrating on the healing process and moving forward with what the governor acknowledged will be a long and tough journey for victims, their families, and the town.
Lewiston Maine Shooting: Daughter's Chilling Revelation about Suspect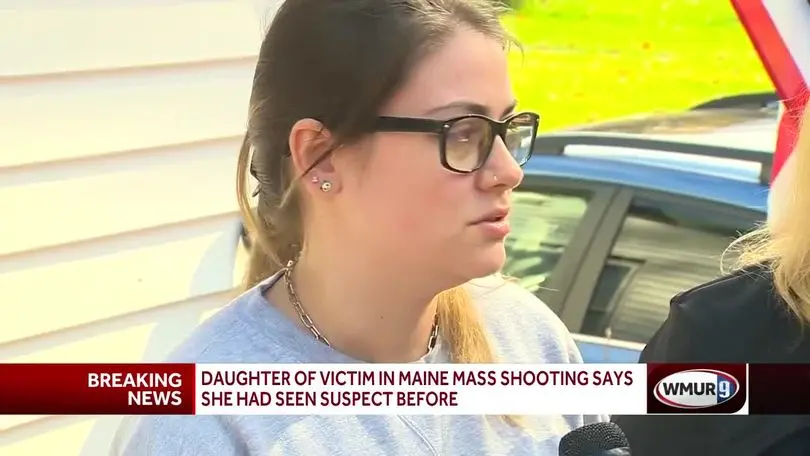 "Now with this search concluded, I know that law enforcement continues to fully investigate all the facts so we can bring what closure we can to the victims and their families," Mills said.
According to ABC News, Card's body was recovered at a recycling site in Lisbon, Maine, where Card had worked. Law enforcement sources verified to our sister station WMTW that Card's remains were located in a trash.
"We wanted to talk to the victims' relatives. We wanted to emphasize something is coming and it's critical that they heard the information as near to first as everybody else.
And you know who else we called was the family of the suspect and they lost a loved one in this scenario and there were many in the family who were extremely cooperative with us throughout, too," Maine Public Safety Commissioner Mike Sauschuck said.
As a consequence of the finding of his body, officials declared the active danger was stopped and the limits put on hunting operations would no longer be in force.
Sauschuck earlier in the day said a message tied to Card was recovered during the probe, but he did not divulge the contents of the note. ABC News has confirmed that it was a suicide letter sent to his son. Additionally, detectives said are preparing affidavits so that they may secure search warrants for social media and other electronic devices.
Earlier Friday, officials rescinded shelter-in-place orders that had been in force since Wednesday evening.
Eighteen individuals perished in Wednesday night's gunfire and 13 others were injured.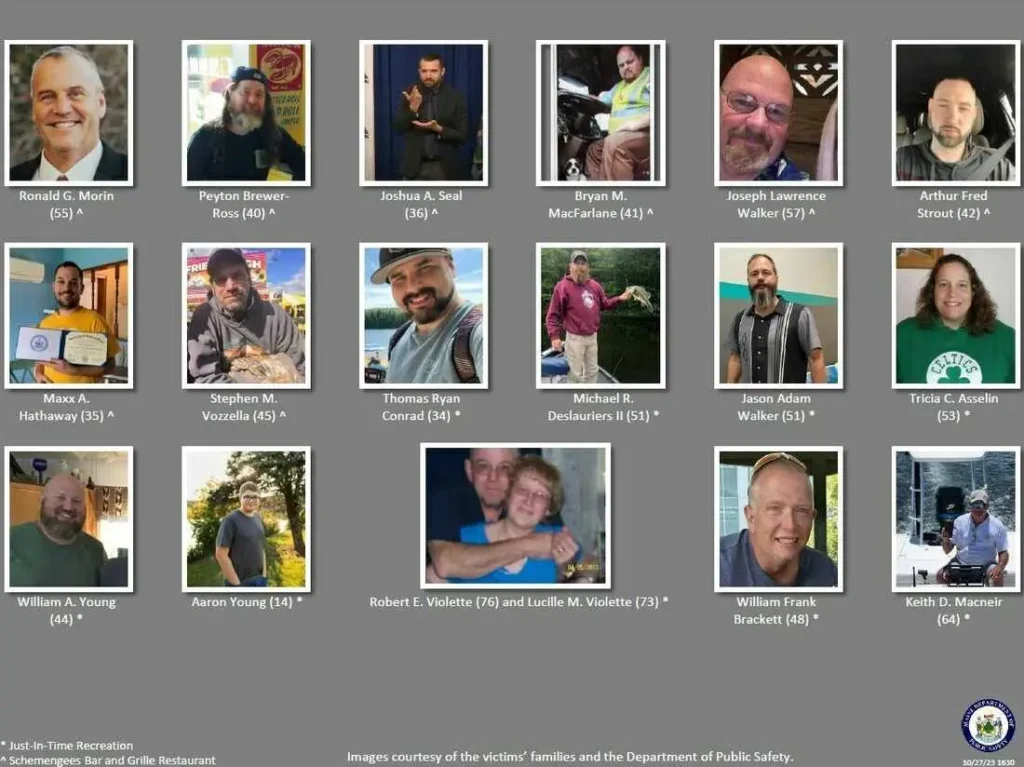 Officials earlier Friday disclosed the identities of all 18 gunshot victims. The youngest was 14 and the oldest was 76:
Ronald Morin, 55
Peyton Brewer-Ross, 40
Joshua A. Seal, 36
Bryan M MacFarlane, 41
Joseph Lawrence Walker, 57
Arthur Fred Strout, 42
Maxx A. Hathaway, 35
Stephen M. Vozzella, 45
Thomas Ryan Conrad, 34
Michael R. Deslauriers II, 51
Jason Adam Walker, 51
Tricia C. Asselin, 53
William A. Young, 44
Aaron Young, 14
Robert E. Violette, 76
Lucille M. Violette, 73
William Frank Brackett, 48
Keith D. Macneir, 64
Maine State Police Col. William Ross said seven persons, including six males and one woman, were slain at Just-In-Time Recreation. At Schemengees Bar and Grille, eight individuals were slain, seven males inside the restaurant and another man outside.
Three other victims were transferred to local hospitals, where they were confirmed dead, Ross said.
President Joe Biden delivered a statement following reports that Card had been discovered dead.
"This has been a sad two days — not only for Lewiston, Maine, but for our entire country.
"Once again, an American town and American families have been decimated by gun violence. In total, at least eighteen victims cruelly slaughtered, dozens injured, some gravely, and hundreds more family and friends praying and enduring agony no one ever wants to comprehend.
"Numerous heroic law enforcement agents have worked around the clock to identify this guy and avert the loss of further innocent lives – all while risking their own. They are the finest of us.
"Tonight we're glad that Lewiston and adjacent villages are safe after spending torturous days hiding in their homes. I applaud Governor Janet Mills for her steadfast leadership during this time of need, and continue to instruct my government to offer everything that is needed to serve the people of Maine.
"Americans should not have to live like way. I once again urge on Republicans in Congress to perform their responsibilities to keep the American people safe. Until that day arrives, I will continue to do all in my power to eliminate this gun violence pandemic. The Lewiston community — and all Americans – deserve nothing less."
MORE ON FRIDAY'S SEARCHES
Officials on Friday evening said divers explored the Androscoggin River in Lisbon, Maine, near the vicinity of the Miller Park Boat Launch on Frost Hill, where the white Subaru associated to suspect Card was located late Wednesday night.
Investigators began an air search over the river, and divers were sent to explore the river for a corpse or evidence. Sonar was planned to be utilized in and around the ramp.
The helicopters were outfitted with thermal imaging equipment to locate heat signatures below.
Sauschuck said there would be a strong police presence at both mass shooting locations — Just-In-Time Recreation and Schemengees Bar and Grille in Lewiston — for at least the next several days as the investigation unfolds.
Officials expect to gather more tips for the investigation into Card and the shootings. Tips can be reported at FBI.gov/LewistonTips. Information can also be submitted with the Maine State Police tip lines at 207-213-9526 or 207-509-9002.
THURSDAY SEARCH AT CARD'S HOME
Late Thursday, scores of FBI officers were visiting a residence in Bowdoin affiliated with Card, according to U.S. Sen. Susan Collins.
Around 7 p.m., police enforcement personnel were calling to Card to come outside at a residence on Meadow Road.
"We know you are inside. Come out with your hands raised. We don't want to anybody else to get wounded," they yelled over a megaphone.
Police urged everyone else in the residence to come out, and a drone was flying above the home.
Police also urged the journalists to turn all their lights out as they shined their lights on the property and its windows.
The Maine Department of Safety claimed that the remarks being broadcast over the loudspeaker are normal search warrant announcements to guarantee the safety of everyone engaged.
Public documents showed the home as the last known location as Card and local tax records say the residence is held by his parents.
WHO IS ROBERT CARD?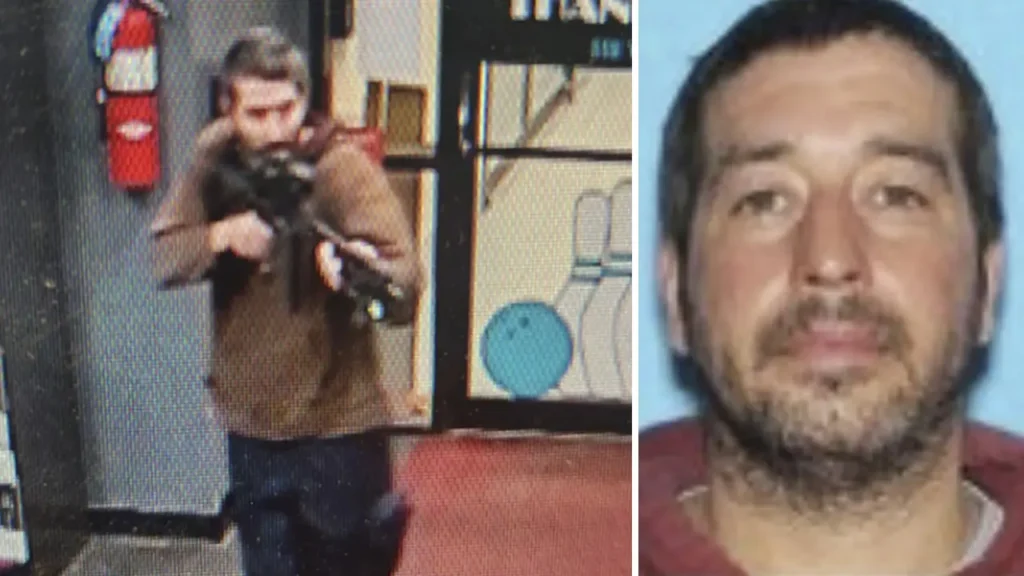 A police alert characterized Card as a weapons instructor thought to be in the Army Reserve and posted to a training facility in Saco, Maine.
According to ABC News, the Army has confirmed that Card has been an Army Reservist since December 2002. His present position is as a sergeant first class and his work is a petroleum supply expert.
Sources also informed ABC News that Card has a mental health history, including a two-week hospitalization this past summer at a mental health institution after he reported hearing voices and made threats to shoot up a National Guard installation in Saco, Maine.
He was born April 4, 1983, and his last known residence was 941 Meadow Road in Bowdoin, Maine.
SUSPECT VEHICLE FOUND IN LISBON, MAINE
A white Subaru tied to Robert Card was located in Lisbon, Maine, late Wednesday night.
Police focused on Lisbon in hopes of finding him after detecting the automobile, but he was not discovered, beginning the manhunt.
Officials stated the registration from the car helped detectives to identify Card as a person of interest. Sources informed ABC News that a firearm was seized from Card's vehicle, and it was being checked to establish whether it was involved in the incident.