The investigation is still on, during the investigation of the University of Idaho 4 student murders, Idaho polices has seized 5 cars from the house where the 4 students' dead body was founded.
Even after the 2-week, investigators continue searching for clues about who killed the students. Idaho police have disappointed the murdered 4 student families.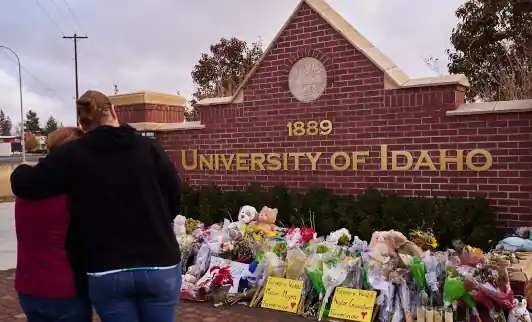 ---
On 29th Nov Tuesday, during the clue investigation, the Idaho police seized the 5 cars. A tow truck removed the seized 5 cars, Idaho Police thought that these cars belonged to the victims, and They took these 5 cars with them for examined murder evidence.
The Moscow Police Department announced in a statement that "Based on the ongoing investigation and the search warranty, the departments have increased their detective activities and secured the murdered site with tow trucks so that they will find the evidence of the University of Idaho 4 student murders. "
In a video which is obtained by The Post, the Idaho forensic investigators could be seen recombing the off-campus rental a day earlier. While grieving neighbors watched, Idaho detectives examined the crime house, both inside and outside which include the dusted windows for fingerprints, and a nearby wooded area.
On November 13, at 3 pm early morning the four students of the University of Idaho —Kaylee Goncalves, 21, Madison Mogen, 21, Xana Kernodle, 20, and Ethan Chapin, 20—were all killed and stabbed by an intruder by a sharp knife while they slept in their beds.
The two best friends, Gonclaves and Mogen, were killed while they slept in their individual private bedrooms which were basically the third floor which is around the 2,300-square-foot house. According to police, on the second floor, housemate Kernodle and her boyfriend, Chapin were killed in her bed.
The other 2 roommates of the coeds who shared a bedroom on the ground floor of the house were unharmed and are thought to have dozed off during the early morning killings.
Moscow hasn't yet conform the suspect and the killing weapon but based on the forensic reports they were killed by a very Sharpen weapon which was thought a knife.
More than 1000 tips, more than 4,000 photos, 103 pieces of evidence, and nearly 100 interviews have been processed by the Moscow police and FBI, but there is no progress found in the investigation.
In his first on-camera interview, the father of Goncalves told ABC News that he believes police will find the person who killed his daughter.
On Tuesday ABC news has taken an interview with Goncalves's father, he told that hoped the investigator find my daughter's killer suspect.
Also, Steve said, "I know that there are some really good, hard-working guys and girls that are on this case that I've met. They gave me a direct look and said, "We're working and doing everything we can," to which I replied.