Turkey Syria earthquake death 28,000: Six days after one of the deadliest earthquakes to hit Turkey and Syria, rescuers retrieved more people from the wreckage on Sunday, as Turkish officials struggled to maintain order across the disaster zone and initiated legal action over certain building collapses.
With the prospects of finding additional survivors becoming increasingly distant, the death toll in both nations from Monday's earthquake and severe aftershocks surpassed 33,000 and was poised to rise further. It was Turkey's worst earthquake since 1939.
Displaced locals in the Turkish city of Kahramanmaras, near the epicenter, claimed they had pitched tents as close to their damaged or destroyed homes as possible to avoid looting.
Faced with criticism about his response to the earthquake as he heads for the most difficult national election in his two decades in office, President Tayyip Erdogan pledged to begin rebuilding within weeks.
In Syria, the calamity struck hardest in the rebel-held northwest, displacing many people who had already been relocated multiple times by the country's decade-long civil conflict. In comparison to government-held regions, the region has gotten minimal relief.
"We have so far failed the people in northwestern Syria," UN assistance director Martin Griffiths tweeted from the Turkey-Syria border, where just one border crossing is available for U.N. humanitarian shipments.
"They are right to feel abandoned," Griffiths said, adding that he was committed to fixing the issue as soon as possible.
More than six days after the initial quake, rescuers discovered a handful of individuals clinging to life in the ruins of homes that had become graves for many thousands.
After surviving 156 hours beneath the wreckage, Syrian Malik Milandi, 54, was rescued in Antakya, southern Turkey, by a team of Chinese rescuers and Turkish firemen.
Such moments are becoming increasingly infrequent as the number of those who have died continues to rise.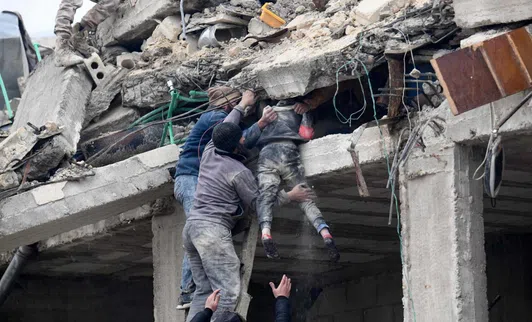 ---
At a burial near Reyhanli, veiled women wept and pounded their chests as victims were unloaded from vehicles, some in closed wood coffins, some in open coffins, and still others wrapped in blankets.
One Kahramanmaras resident stated that he had not yet buried his relatives because there were insufficient burial shrouds to wrap them in. A large truck was piled high with wooden coffins on a route leading toward town.
Turkey Syria Earthquake: Security Fears And Detention Orders
Traffic sporadically paused along the main road into Antakya, where the few intact buildings had major cracks or caved-in façade, while rescue personnel asked for stillness to detect indications of remaining life beneath the debris.
Building quality has come under sharp attention in a country that stands on many seismic fault lines in the aftermath of the disaster.
Vice President Fuat Oktay stated 131 people have been identified as being responsible for the collapse of thousands of structures in the ten affected regions.
"We will diligently follow this up until the proper judicial procedure is completed, especially for structures that incurred major damage and caused lives and injuries," he added.
The earthquake struck as Erdogan prepares for presidential and legislative elections in June. Even before the accident, his popularity was dwindling as a result of increasing inflation and a collapsing Turkish currency.
Some quake survivors and opposition lawmakers have criticised the administration for delayed and insufficient relief operations early on, and some have questioned why the army, which played a vital role following a 1999 earthquake, was not called in sooner.
Erdogan recognized issues, like the difficulty of providing relief despite damaged transportation links, but claimed the situation was under control. He has advocated for unity and has criticized "negative" politics.
He has also warned that looters will face harsh punishment. A police escort of eight army vehicles led a convoy of relief vans moving into Kahramanmaras.
Gizem, a rescue worker from the southeastern province of Sanliurfa, reported seeing looters in Antakya. "We can't do anything because the majority of the looters have knives."
One elderly citizen of Kahramanmaras said that gold jewelry in his home had been taken, while in the port city of Iskenderun, police were stationed at commercial street intersections with several phone and jewelry stores.
On Saturday, two German relief organizations ceased operations in Turkey, citing reports of conflicts between groups of people and underlining security concerns in quake-affected areas.