The Dallas Cowboys avoided fresh openings on defense by re-signing three starters throughout the offseason.
While the aim is to approach the NFL draft without an overwhelming need, the Cowboys think they are as well-positioned as they have been in a decade of great selections.
Dallas holds the 26th selection in the first round, which will take place next Thursday night in Kansas City, Missouri.
"We think we're in a great position to really improve our football team," executive vice president of personnel Stephen Jones said on the radio, "but we won't necessarily be pressed to draft for a need."
In late-round draft choice deals, the Cowboys acquired receiver Brandin Cooks from Houston and cornerback Stephon Gilmore from Indianapolis. Both are potential starters who will provide Dallas with greater depth.
The Cowboys re-signed safety Donovan Wilson, linebacker Leighton Vander Esch, and defensive lineman Johnathan Hankins after their second straight 12-5 season, which ended with a divisional-round defeat to San Francisco.
Special teams ace C.J. Goodwin and reserve pass rusher Dante Fowler are both back while running back Tony Pollard has been handed the $10.1 million franchise tag after the departure of two-time rushing champion Ezekiel Elliott in the summer.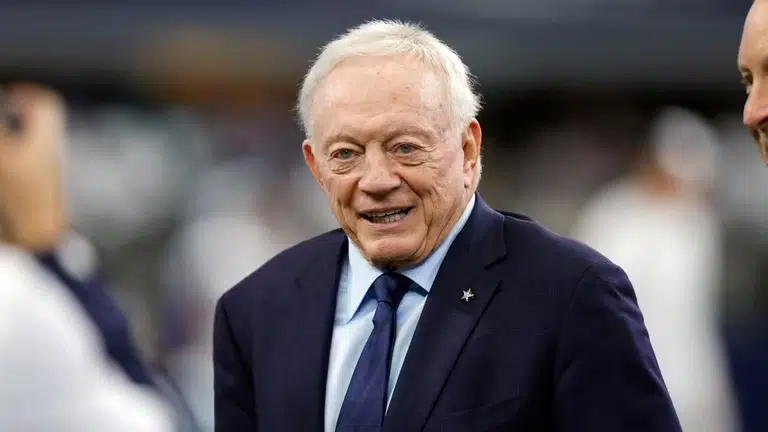 "Part of the reason I think we've been confident in our system is that we're able to take care of a lot of our needs before we even get to the draft," Jones said. "You'll never be able to take care of every single one of them, but you should try to do as many as you can before making a decision."
SELECT 'EM
The Cowboys can only hope to get a guy as significant as last year's pick in the mid-20s for the second year in a row. Tyler Smith, the 24th overall selection, has the potential to be the franchise's left tackle for the next decade. Tyron Smith was the ninth overall selection in 2011.
NEEDS
With Dalton Schultz leaving in free agency (Houston) a year after Dallas slapped the franchise tag on him, there's a lot of buzz about the tight end.
Schultz's departure was influenced in part by the strong rookie performances of fourth-round pick Jake Ferguson and undrafted free agent Peyton Hendershot.
Since Jerry Jones acquired the franchise in 1989, the Cowboys have only picked a tight end in the first round once, and David LaFleur (1997) did not fare well. Jason Witten was a third-round selection in 2003 and is the club leader in games, starts, receptions, and yards receiving.
The offensive line, running back, and linebacker are the closest things to needs on a squad with none.
NOT REQUIRED
With the signings of Cooks and Gilmore, the Cowboys are now well-stocked at receiver and defensive back. Dallas was light at cornerback and safety not long ago.
At cornerback, the team now has four starting-caliber players, including Trevon Diggs, DaRon Bland, and Jourdan Lewis. Wilson and Malik Hooker form a strong safety duo.
IS HELMET STAR FOR TEXAS STAR?
Bijan Robinson, a former Texas running back, has a consensus top-five overall ranking among draft evaluators but isn't expected to go far in the first round.
It begs the issue of whether the Cowboys, in the aftermath of Elliott's departure, would select Robinson if he was still available. There's also the matter of whether he drops far enough for Dallas to think about trading up.
QUESTION FOR QB
Despite the team intending to offer Dak Prescott a third deal that would make him the starter for the next decade or more, Jerry Jones says he expects to choose a quarterback this year, and maybe every year after that.
The obvious question is where in the manuscript it is. Since taking Prescott in the fourth round in 2016, Dallas has picked two quarterbacks: Mike White (fifth round, 2018) and Ben DiNucci (seventh round, 2020).