Franco Harris, Who is an NFL Lengendry running back Player Of the Pittsburgh Steelers NFL team, has died at the age of 72.
Franco Harris, the Hall of Fame running back whose heads-up thinking authored "The Immaculate Reception," considered the most iconic play in NFL history, has died. He was 72.
As per the news reports, which are collected from Harris's son, Dok Harris told, the Pro Football Hall of Famer died overnight, and there is no disease in there. There are no more updates till now.
Also, Dok Harris told that he is unknown about the cause of death of his father.
Visual Stories
In the recent news, he was the honest guest of the Immaculate Reception and the Hall of Fame, which is organized by the Pittsburgh Steelers. It is the 50th anniversary of the Steelers.
2 days after the 50th anniversary of the Steelers, The legendary NFL player, Franco HArries has been dead in her bed.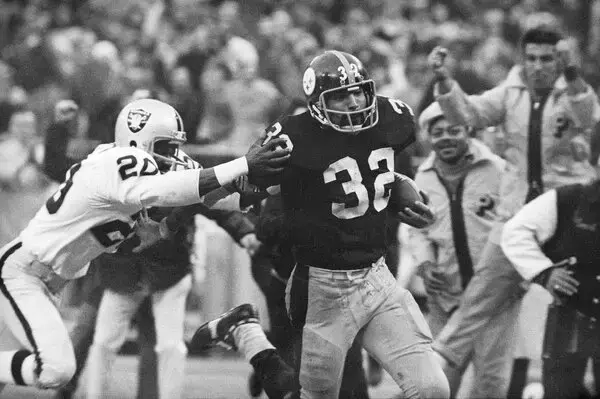 ---
Speaking about his Franco Harris achievements, he is the 4 times Super Bowl champion and 9 times Pro Bowler and he crosses over 11,000 yards. Also, he was inducted into the Pro Football Hall of Fame in 1990.
From death, three days before Pittsburgh Steelers has been scheduled Franco Harris retire with his player number 32 jersey during a ceremony at halftime of its game against the Las Vegas Raiders.
Harris's familiar has shared a statement with the news channels "We are deeply saddened, The reality of losing such a wonderful person has not yet set in. We have shared Franco with so many people and in so many ways throughout our lives. Aside from his incredible NFL career, Franco represents the best of humanity: kindness, charity, decency, and humility. He led by example both on and off the field, with the goal of making the world a better place for all of us. We know he touched many of you, and we share your grief. We will persevere in living and achieving the world that he envisioned."