Tropical storm Ophelia has engulfed North Carolina, threatening more floods and devastation.
Tropical Storm Ophelia made landfall in North Carolina early Saturday morning, bringing 70 mph gusts, torrential rain, and coastal flooding, and knocking out power to nearly 70,000 homes and businesses across many states.
Around 6:15 a.m., the storm made landfall on Emerald Isle, in the southern end of North Carolina's Outer Banks, with huge gusts just short of hurricane-force winds.
According to the National Hurricane Center, the storm moved fast inland, going north with winds decreasing to 50 mph, and was expected to continue northeast through Sunday.
Rainfall of up to eight inches and storm surges of six feet were predicted in regions of North Carolina and Virginia.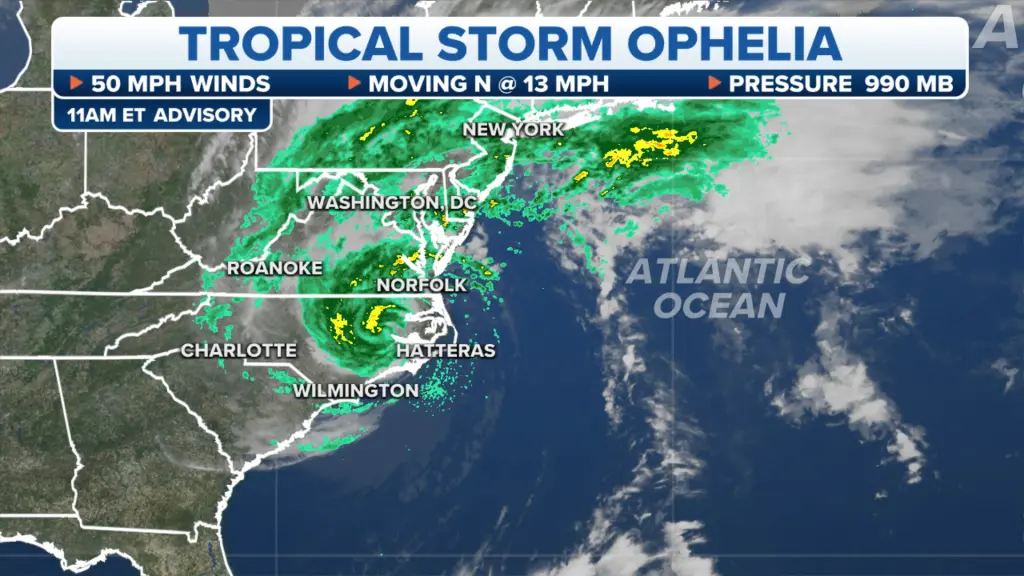 Storm chasers posted video Saturday showing raging waves shaking boats in New Bern, North Carolina, and rushing floods inundating houses and a vehicle in Washington, which is roughly 30 miles from the coast on the Pamlico River's northern banks.
The US Coast Guard rescued five individuals, including three children, from a sailboat at Cape Lookout, North Carolina, late Friday as the storm approached. When the owner of the yacht contacted for assistance, the waves were 10 feet high and the winds were blowing at 40 miles per hour.
According to the National Weather Service, the tropical storm impacts are spreading as far as 300 miles from the core of the huge system and are expected to pummel trees and down power lines along its route.
According to the PowerOutage.us monitoring site, about 40,000 power outages have been recorded in North Carolina, 13,600 in Virginia, over 7,000 in Pennsylvania, and 5,700 in New Jersey as of Saturday afternoon. Power was also knocked out to around 1,500 Long Island homes and businesses. According to Con Edison's outage map, downed wires also knocked off electricity for a few residences dispersed throughout the five boroughs.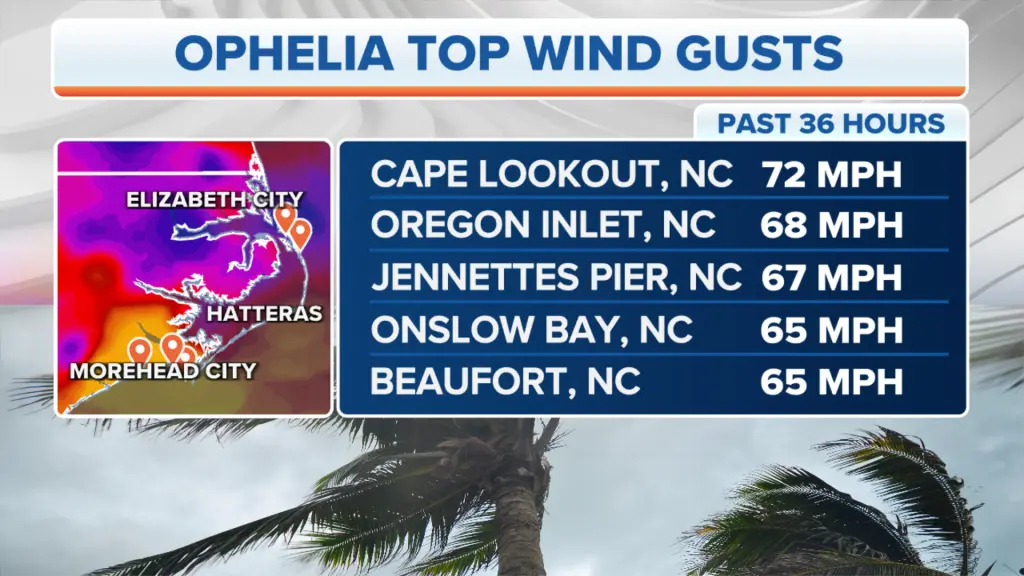 Several airlines issued travel warnings, warning of probable delays due to the tropical storm near the East Coast. Delays and cancellations at John F. Kennedy, Newark Liberty, Dulles, and Charleston seem to have had a rippling effect, causing schedules at key hubs throughout the nation to be disrupted, including Chicago O'Hare, Atlanta, and Denver.
The National Weather Service expects that Ophelia will swiftly weaken to a post-tropical storm when it approaches Maryland on Sunday, although heavy rain is predicted from Pennsylvania to Long Island and possibly New England. Showers are expected to continue through Sunday, but conditions will improve by Monday.
"Thankfully, Ophelia is going to weaken," Fox Weather meteorologist Jordan Overton told The Washington Post.
"This rain we're seeing [in New York City] is from Ophelia, it's the outer bands, but it's not going to be nearly as strong as it approaches the northeast coast later today and into tomorrow," Overton said on Saturday.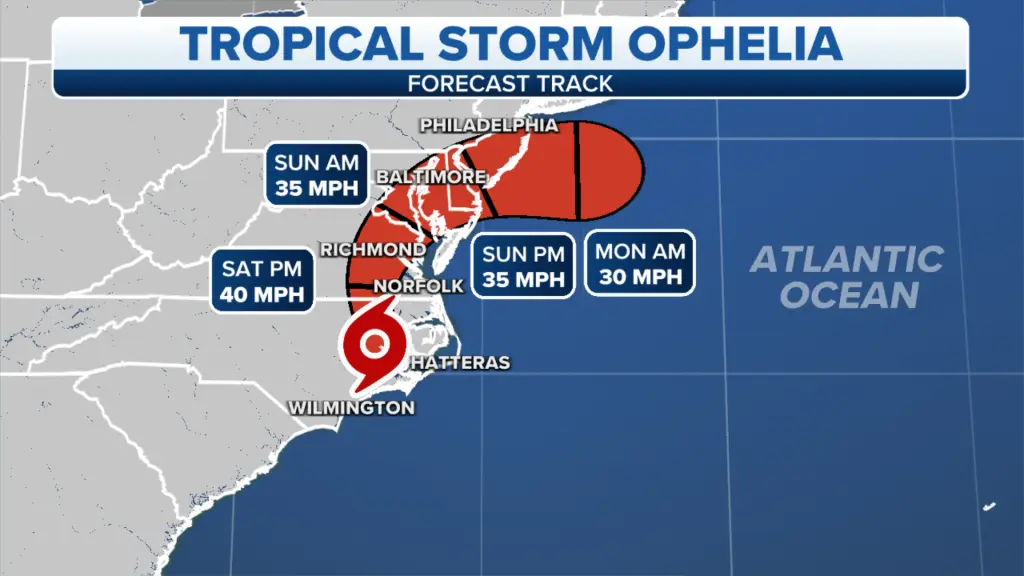 From Bogue Inlet, North Carolina, to Chincoteague, Virginia, a storm surge warning was in force. According to estimates, surges of 4 to 6 feet were expected in certain regions, and a tropical storm warning was issued from Cape Fear, North Carolina, to Fenwick Island, Delaware.
On Friday, North Carolina, Virginia, and Maryland declared states of emergency. Some schools closed early, while weekend festivities along the shore were canceled.