Kaylee Goncalves, a University of Idaho student who, according to her family, regularly followed true crime stories online, reported a suspected missing person sighting to Moscow police a year before she and three companions were slain in a stunning home invasion knife assault.
Sharon Archer, 62, of Coeur d'Alene, Idaho, went missing about September 27, 2021, according to Idaho State Police.
Goncalves, 21, phoned the police on Oct. 5, 2021, after seeing a lady who resembled Archer in a Moscow Walmart.
Police responded, but it's unclear if the missing lady went to the store, which is some 85 miles south of Coeur d'Alene, and where she was last seen.
"Kaylee told me the female's name is possibly Sharon Archer," Sgt. Dustin Blaker, who would eventually become a lead investigator on the student stabbings, wrote in his report on Oct. 6, 2021. "Kaylee told me the female was staring at her and her boyfriend when they were in the store and as they checked out."
According to the incident report, Goncalves recognized the woman's face on a missing person flyer and called the police. She sent the flyer to Blaker, and police went to the Walmart to try and track down Archer or her Toyota SUV.
Read the incident report (here)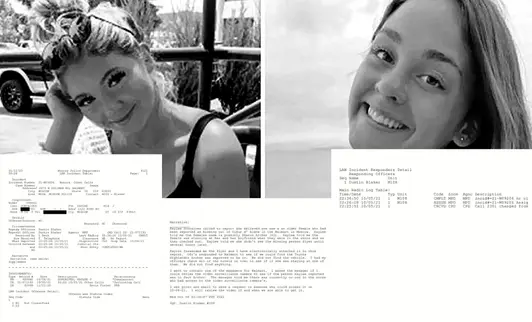 "We were unable to locate the car," Blaker stated. "I had my officers look through all of the hotels in town to see if she was staying at any of them. We discovered nothing."
Investigators then asked a Walmart manager if they could examine the CCTV cameras to see if Archer had been in the store, but they couldn't.
"The manager informed me that no one in the store currently had access to the video surveillance cameras," Blaker stated. "On 10-06-21, I was provided an email with instructions to make a request to someone who could view it. If and when we are able to obtain the footage, I will evaluate it."
According to local media, Archer was discovered dead in her vehicle, sunk in Fernan Lake, some three weeks later.
Archer was labeled "endangered" and had a number of physical issues, including diabetes and brain damage from a vehicle accident decades ago, according to Spokane-based KREM 2.
According to her family, Goncalves carefully followed real crime tales online, even sitting down for an interview with a TikTok and YouTube celebrity the UI student followed.
Her father, Steven Goncalves, informed Olivia Vitale that he contacted her expressly because his daughter was a fan of her work.
"I started looking at the case that she was following with you, and then I decided, I'm going to contact out because maybe she can assist settle Kaylee's narrative," he said in an interview with Vitale's 1.2 million TikTok followers.
"They were already working together on other people's stories, but maybe this will help settle her own tale, which is really horrible that this happened to her," he added. "That was my daughter, though. She wanted to assist other families in obtaining justice."
Blaker went on to become one of the lead investigators in the quadruple homicide that killed Goncalves and three friends in the early morning hours of Nov. 13, and his affidavit in the murder investigation was used to support a search warrant for suspect Bryan Kohberger's home and office in nearby Pullman, Washington.