Today is the day that marks exactly one month since 4 University of Idaho students were brutally murdered in their apartment with a sharp knife.
Since it goes 1 month ago, the investigation result is non been, still, there is no suspect catch by the Idaho police as well as police haven't found the murder weapons.
---
Police suspect the University of Idaho murderer was "proud" of the "brutal weapon"
Idaho Murders Updates: Moscow Police Returns All Victims' Belongings To Grieving Families
Idaho 4 Student Murdered Is A Targeted Plan, Dad Kaylee Goncalves Says
Investigators Seize 5 Cars Where University Of Idaho Students Was Murdered
After 2 Weeks Police Still Looking For The Name Of The Suspect In The University Of Idaho 4 Student Murders
---
But now the University of Idaho has prepared its campus winter graduation.
You can see below the Fox news statements.
---
For the graduation ceremony, the Moscow police James Fry warned the public and the neighbor of the campus, you have to keep their eyes on, it during the event the killed may be returned.
| Moscow Police Chief James Fry Warns the killer of University of Idaho students could strike again
And make your safety you have to remain vigilant in traveling groups as the killer is not yet behind bars.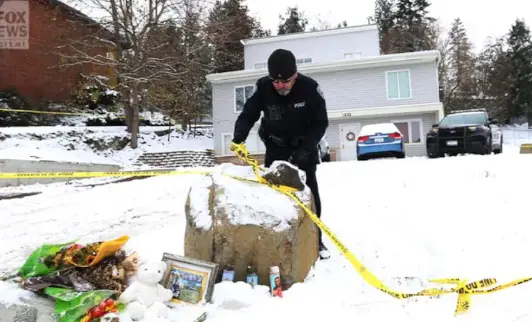 ---
You are looking at the above image that shows the crime area where those four Idaho students were stabbed to death around 04:00 a.m. one month ago.
But after 1 money and so many investigations of the 1000 videos, images, and clues, still, we looking for the suspect and the weapon, Moscow police say.
The families of Xanna Kernodl, Maddie Morgan, Kaylee Gonzalevase, and Ethan Chapin were left with more questions than answers after this quadruple murder rocked the campus.
This case is not going cold. We have tips coming in. We have investigators out every day interviewing people. We're still reviewing the evidence.
Police are looking for a white Hyundai Elantra model 2011-2013, which is spotted at the crime sense, although police have seized 5 cars from the crime sense.