A teenager has been charged after the death of 4 people ed while they had attempted to cross the English Channel in the United Kingdom.
During their crossing from the English channels, 4 people died and 39 were rescued by a migrant boat. The kent police have found " Out of the 4 There was a 12-year-old teenage boy inside the person who died".
It is found from the statements that all are crossing from Britain and France between the English channel.
Based on the Uk police reports and statements the Teenage girl is only 19 years old and her name is Ibrahima Bah, 19, still, they have not found other identities such as her address and parents.
According to Kent Police, Bah was charged with "knowingly facilitating the attempted arrival in the United Kingdom of people he knew or had reasonable grounds to believe were asylum seekers."
Police have told that Ibrahima Bah is taken custody for facilitating attempted "illegal entry" to the UK and will be transferred to the court on Monday.
Early on Wednesday, the boat ran into trouble in the freezing weather, prompting a rescue effort by a fishing boat, the UK coast guard, and other emergency personnel.
A UK fishing boat has saved 39 migrants and refugees, there are including 12 Children all below 8-10 years, some of whom were clinging to a rope before being hoisted onto the boat.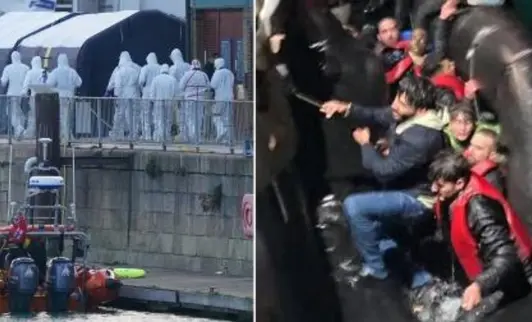 ---
Images which are captured on Wednesday from the fishing boat show a partially deflated dinghy with several people clinging to the side of the boat, some of whom were wearing life jackets.
After November 2021, this is the second time that 4 people are dead while crossing the English channel. Speaking about 2021, 17 men, 7 women, and 3 children died in the last year. And after 1 year a new incident has come.
Detectives from the Kent and Essex Serious Crime Directorate are looking into the circumstances surrounding the deaths, with help from the National Crime Agency.