Ryan Reynolds and his wife Blake Lively shared a picture on Instagram and told the audience about his wife's pregnancy progress.
In the above images, that indicated with a Christmas pajamas dress up. Where Ryan has posed as a Gossip Girl and his wife dresses up in a pink bathrobe and shows off his pregnancy, Ryan's parents get up in Christmas Santa and Mrs. Claus dresses.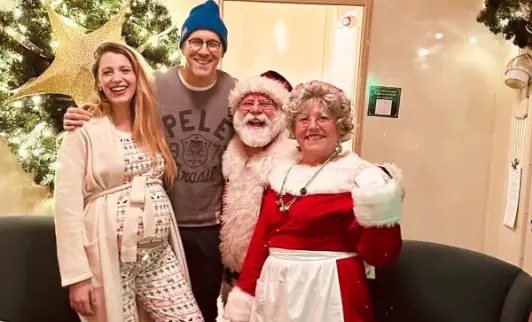 ---
Day after the Ryans Reynolds got the People's Choice Award and in that award ceremony, he speaks jokes and getting a lovely speech about his family and especially about his wife and her daughters.
Read: Ryan Reynolds Wons People's Choice Awards 2022
Also, he spoke about his wife Blake Lively was pregnant and shared some words. Also, Ryan shared that " After a few weeks my 4th baby is coming".
After marred the couple in 2012, both of them trolled and comedy each other on social media. The last month After Reynolds posted a picture of the Christmas movie, Spirited, the Sisterhood of the Traveling Pants actor made fun of Reynolds' dancing.
And committed on this pregnancy photo "Can you get pregnant while pregnant??"