The murder of four University of Idaho students in the early hours of November 13, 2022, was most likely a "thrill kill," according to a top forensic psychiatrist.
Kaylee Goncalves, 21, Madison Mogen, 21, Xana Kernodle, 20, and Ethan Chapin, 20, were all stabbed to death in Moscow, Idaho, after an assailant stormed into a shared student housing.
Bryan Kohberger, a 28-year-old Ph.D. student in criminology, was arrested on December 30 and charged with four charges of first-degree murder as well as burglary.
Kohberger's legal team has stated that he would enter a not-guilty plea and seek to clear his name.
According to Ian Lamoureux, a forensic psychiatrist and clinical assistant professor of psychology at the University of Arizona, the deaths might have been a "thrill kill."
"I have not seen enough material to determine a motive at this time," he added.
This looks to be a 'thrill kill' at the moment. The thrill might be emotional or sexual in nature. It might also be the rush of carrying out the 'perfect murder.'"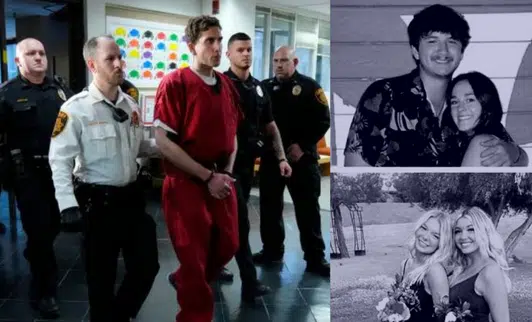 ---
"It looks as though there is some suspicion, considering his degree in criminal studies, that this may be the motive—the delight of outsmarting the authorities," Lamoureux remarked, emphasizing that Kohberger has yet to be convicted of any crime.
"The final purpose is the adrenaline rush and thrill of the kills. If he is guilty and accurate, his online meetings with the victims might indicate stalking/hunting activity that this kind of murderer exhibits as a manner of generating excitement in anticipation of the murders—"the thrill of the hunt."
According to the doctor, the murderer most certainly got sadistic delight in inflicting pain on their victims.
"Creating dread, horror, and/or suffering in their victims will heighten the degree of the pleasure gained from their activities," he stated. This is supported by the killings' deeply personal and extraordinarily brutal character (a huge, fixed blade, such as a Ka-Bar military knife).
This act of hunting/stalking their victims, resulting in violent homicide(s), is immensely enjoyable to these individuals, comparable to a narcotic drug high."
Lamoureux stressed that his statements were "speculative" since "knowledge on the defendant is quite restricted at this point."
"The authorities have been unusually non-communicative with information," he said, "which shows that they are quite anxious about safeguarding the integrity of the investigation itself and the future prosecution."
The murder weapon used to murder the four students has yet to be recovered by police, while a knife sheath was discovered at the crime site.
Cara Kernodle, Xana's mother, has stated that she does not want Kohberger to face the death sentence if convicted.
In an interview with NewsNation, she stated: "I want to see him pay for his actions. I'm not interested in the death penalty; it's not who I am, and I don't believe in it; but, I feel he should spend the rest of his days in jail."